I must admit I neglect the finer details of managing this account - I should be ashamed with my self.
My barns is my business and thats our bread and butter but when it comes to writing my passion lays with food. Ive been a busy iguana (let the bees have a rest) for the last 6 months. We've had the summer season in the barns, not quite as busy as last year but we'll just blame Brexit!!! lots of last minutes and odd days in the week from booking.com - so less bread and butter and more ironing!
Then there is the steady rise of the food blogger in me - I run Love Norwich Food  writing regular blogs for my website (www.lovenorfolkfood.co.uk) plus spending far too much time on social media!
join me @love_norwich_food - Instagram / @foodnorwich - twitter or Love Norwich Food on facebook
Its not a bad job, its just not a paid job - Im still doing my cookery courses here at Lodge Farm Kitchen, Ive reduced the craziness from last year when I taught 61 courses  - I'm doing half that now and so much more manageable. Last year I was working 2 - 3 weekends in the month, one week I had 5 courses on and a few weekends I worked 2 courses on the Saturday. So to slow it down I took mini themes off weekends and stopped selling vouchers. It worked a little too well - - But now my passion is super enthusiastic and I can give 110% to those booking on. Plus it gives me more time to do the blogging thing - - where I earn absolutely no money, but have become ever so slightly obsessed.
I blame Brexit!!!
I love to promote all things food in Norfolk, I love the invites to openings and the occasional event. The odd taste test and off course all the writing - - I love writing. Food really is my passion.
But of course I still love Lodge Farm, the views over the lakes, the wildlife, Charlie and Splurge the geese the lovely holiday makers - meeting new people. Not so keen on the cleaning - but don't mind all the paperwork and correspondence. And it pays the bills. Plus to live in a Jacobean farmhouse with all the history and beauty is lovely - I'm very lucky even though I work very hard.
I tend to close bookings off over winter to allow short term rentals - there is always people looking for an odd month in-between houses or renovations. It means I can have more time to do the nitty gritty I don't get time for in summer and of course I leave them to the own cleaning and bedding - meaning no Tue, Wed and Thur morning ironing sessions.
Well, I guess it will soon be Christmas - -
I love spring - Lodge Farm sprouts leafy goodness all over the place. Bulbs are popping up, snowdrops, daffodils, tulips and crocuses. All 150 trees spring to life. The smell of vanilla wafts in the air from the Liberia (I made that up, don't know the name). Geese, swans, ducks and coots spring to life, mate and nest. Cormorants and Moor hens dive in to the depths of the lake for a cocktail of fish - its like Mary Poppins country here.
As well as the incredible nature scene here at Lodge Farm, we can almost guarantee a hotter than hot summer. Roll on another heat wave, bring me the sun shine glistening over the lake and those warm evenings sitting outside with the barbie going for something yummy.
Lodge Farm has three lovely barns Lakeview (2 double bedrooms) over looking (you can guess)!, the Courtyard (2 bedrooms one double one twin) with its walled Victorian wall and high beams and The Dairy (one bed) overlooking the lakes, the woods and the playground area.
Look out for our short weekend or mid-week breaks on offer last minute or book yourself in to a Friday to Friday week - time to chill and time to shop in Norwich, in the top 10 shopping destinations in the country with Norwich Lanes a highlight of cobbled streets down Elm Hill, to Cathedral to Medieval street along with over 200 independent businesses. Dine in over 500 cafes, bars and restaurants - indulge in gastronomy, eat your self around the world in the market (voted the best in the UK) or cocktail on one of our roof gardens over looking our medieval historical city, with the second tallest spire on the cathedral in Britain.
Go wild with the kids in one of the many them days like the Dinosaur park, Pleasurewxod Hills, Pettittes adventure park or slot your way through Yarmouth so good they called it Great (it has its rough charm and a gorgeously long sandy beach).
Norfolk has something for everyone and Lodge Farm is the perfect place to explore it all - 10 minutes from the city, 30 mins from a beach and in a countryside location - just outside the Village of Bawburgh with a gastro award wining pub.
Come on - book yourself in, drop me a line - have a look on our circe and availability page.
Zena
www.lovenorwichfood.co.uk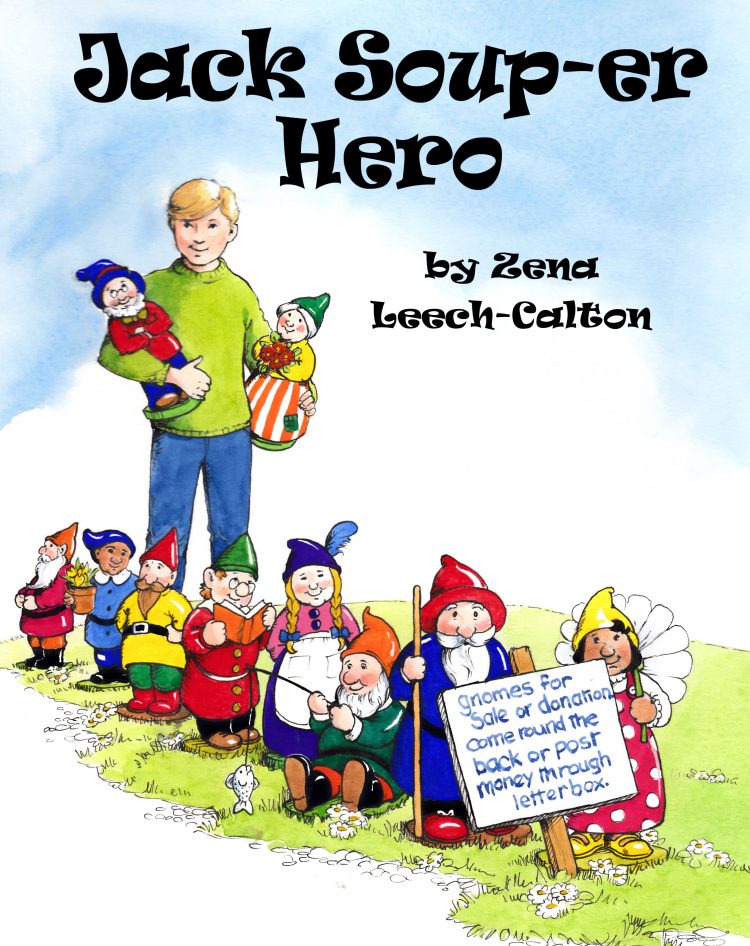 Jack Soup-er-Hero
I love writing nearly as much as the foodie thing and one day I hope to replace everything with writing (apart from sleeping and eating) - -
It started way back when my mum encouraged me to write a diary, every Christmas she would buy me one, I'd then fill it with feelings, things I'd done and childhood nonsense. I even kept a separate teen one - - but I won't tell you what went in that!
One day my mum found it, flicked through it with a cheeky grin on her face so I immediately snatched it off her and told her it was private – but I think she'd already read it. Hasan to say I tore it up and flushed it down the loo - - I learnt then that evidence is not in what you say but what's written or recorded – hence you'll never find me flushing out my baggage on social media.
Anyway, short stories followed then poetry in to my late teens and twenties. Then when I was mid twenty I wrote my first children's book 'Tick Tock Time' all about a different dimension paralleled with school life. Containing a romance, creatures, a chimpanzee who liked custard and a world of vivid colour. I sent over 20 synopses to publishers and agents but got no joy. In the meantime I started ' The Journey' about a child discovering a large metal object buried under her shed, that could whip her up to space - but I gave up after getting so many rejections for Tick Tock Time.
Then when my children were baby's and asleep I started an Adults Novel 'The Night it Happened', 77,000 words – sex, violence, a murder mystery and a love story all rolled in to one. I loved it, but my hubby got to chapter 3 and told me it was pornographic!!! But I edited it, played around with it – made it perfect and again got rejected from publishers.
Then Jack was born, while we were living in the caravan renovating Lodge Farm, I wrote a gorgeous little children's story about an autistic boy and his challenges coupled with his achievements, spurred on by Mrs Grandhouses amazingly nutritious soup samples from his mum's café. Including the day he dealt with 50 annoying Gnomes and made the shed of memories.
"Bugger publishers" – when I eventfully finished editing it and got the front cover deigned and painted by a local artist in our village – I decided to self-publish.
Then 'Jack Soup-er-Hero' was printed in marvellously black & white glossy pages, for all to flick through read and enjoy.
I'm selling the book for £5, pick up from me (Zena) or at Lodge Farm, or I'll package and post in the UK for £1.50 (£5.50 worldwide)
– you can simply pay via friends and familyon paypal – *** zenick88@hotmail.com= £6.50 for one copy, £11.50 for 2.
Ref – Your full name & JACK
Then *** e mail me, let me know its paid along with your FULL address and I'll pop it in the post in time for Christmas - - -
I've even got my next two children books in my head - the first is about a secret teenage millionaire, using his secret stash to change his community and turn his family on their heads - in a good way!, the second is based on another planet about a ? farm, thats going to be epic.
BOOKS make lovely stocking fillers - - perfect for over 5's to read with a parent, or read alone from 8 – 12. The story is set over Christmas and is pleasantly charming with some gorgeous little twists and turns & everybody's sure to fall in love with Jack.
Happy Reading - - - - -
Zena Leech-Calton ©
www.lovenorwichfood.co.uk
Howdy Folks,
I was teaching a cookery course last week and the food scene in Norwich was brought up - - of course who better to talk about Norwich food than me, whom owns www.lovenorwichfood.co.uk dedicated to all things food in Norwich and beyond (well Norfolk)!
Yes, theres over 500 places to eat or drink in Norwich (or both), you can get chips in a bucket, Thai on a boat (actually thats sunk!), Dim sum at lunch time, Octopus on a taco, whelks from the market, chicken on a rotisserie, pizza to die for, Sicilian canolli, South American empanadas, Portuguese Natas, home-made Jaffa cakes, hand pulled noodles, local mussels by the pot, Vietnamese Pho, KANUFA - - - look it up!  Its amazing - - and so is Kanufa.
Plus we have Norfolk & Norwich restaurant week, this week intact. Where nearly 100 foodie places all over the county open their doors with a specially priced 2 or 3 course menu. People come from far and wide to EAT. My kind of county.
Anyway, enough of food - I'm on a 5:2, mixed with 16:8 fasting day today - - i've got 100 calorie lunch to look forward to.
What about Christmas - surely we can mention the C word - - its only a few-ish weeks away. Ive already made the puddings - the house smelt divine. We have one holiday barn available over the Christmas week - - every thing else is booked. It will soon be time to get the TAT out of the attic - - Actually I was thinking of buying a blow up Christmas tree for our home - - its much more needle friendly. And with 2 teens no one gives a dam!
Then theres the chickens and Geese - did I tell you that a Stoat destroyed all but one of our new Bantums. We have now caged the top of the run, so the little bugger can't clime over. Poor 'Betty' was left scared and emotional from the ordeal of watching MR Stoat terminate all 8 of her mates and then drag one off for dinner. I do need to find some friends for Betty - she's slowly getting used to me going in now, feeding her corn - - she was terrified after it happened, went mad if anyone went anywhere near her. But I think I'm getting her through - Mind you it didn't help when my teen son Silas let her out and was running around franticly trying to net her - - didn't do much for my slowly slowly catch a monkey training regime!
I had a case of 'cleaning torets' a few weeks back when some short term rental peeps left the place particularly disgusting. Sick all over the loo to name but one gross element I had to scrub. Of course whats better than relieving annoyance than swearing - - - and I do it participially well when I get left present in the loo. Oh, well thats the joys of rental cleaning - that and a million cobwebs. (a new version for Take That)
So - - - -  warm Novembers, global warming, 150 trees spewing their leaves all over Lodge Farm, immaculately cleaned toilets and one mad chicken. No wonder I turn to food for comfort - thinking of which, I'm going to make my 100 calorie lunch - oh, the joy.
Happy Holidays
Zena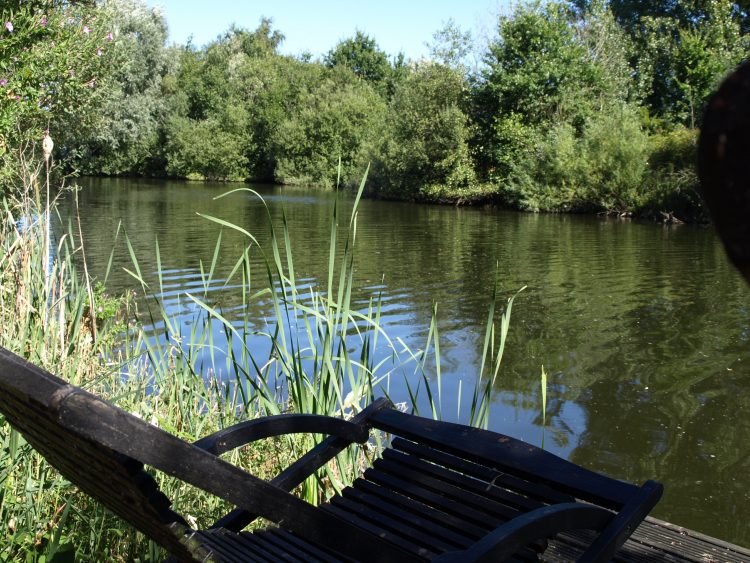 A lot of people who come to Lodge Farm love the wildlife, especially the geese. Even those scared of geese before, soon learn from a spot of training how to handle them. And its not like we train ours as guard, they come and go on the lake as they please making a very relaxed timid goose who love to be fed left over goodies.
Anyway Charlie Jr, Splurge and Boo are still doing their rounds around lodge farm, running towards the apple trees when theres been a gust of wind to eat all the windfalls. They especially love the plums eating them whole, pip and all.
But theres been a stoat seen on the farm which goes hand in hand with missing chickens - we're down to 0. One got eaten at night when she didn't come back in time, but then Mr Stoat was knocking them off during the day as well. Poor Fluff Bum was mauled and left under a tree - - apparently they kill even if there full.
Plus it seems we have a shortage of rabbits - on a morning you would see dozens dashing back under the fence and in to tunnels but its very sparse on bunny's now. Theres obviously a very fat stoat family near by.
All of which makes me very cautious to rescue more chickens, until I've decided what to do. Do I shoot the little bugger? or if I leave it a few months will he wander off to pastures new. I remember seeing his great grandad back when we were renovating, but I hadn't seen any until last week when he dashed off across the drive way and in to the bushes with his dark brown tipped tail trailing behind him.
The bats are still flapping away at night - it was lovely this summer in the heat wave, sitting in our new patio area watching them zoom past.
Its been especially busy this year with the cookery courses, I've taught over 40 already with 55 booked in this record breaking year - but being so busy with that and the barns hasn't given me much time to enjoy the lake. So I've not seen any otters, mink or kingfishers. The Herron's always out there somewhere playing statues on the side lines.
I think this years heatwave has altered the wildlife rations - I think the bunny were too lethargic but plenty of flys - - So all though its been a bad year for wildlife its been an epic year for fruit. The apple trees are bursting. Ive already made 'Crab Apple Jelly', 'Plum Chutney' and a few sneaky apple crumbles. As well as freezing a whole host of plums, berries and rhubarb.
So, back to the barns and business in hand - we've gone on with Bookings.Com which has boosted the summer trade especially in last minute breaks. We tend to only offer short 1 - 2-ish month rentals this time of year. But Booking. Com's handy for filling in the gaps. But I'll always add last minute specials on to my websites availability page & they'll always be better. Just like I always look after my returning visitors with up to 10% off weekly holidays and early check in.
So - - - if you fancy a break 'who ya gonna call'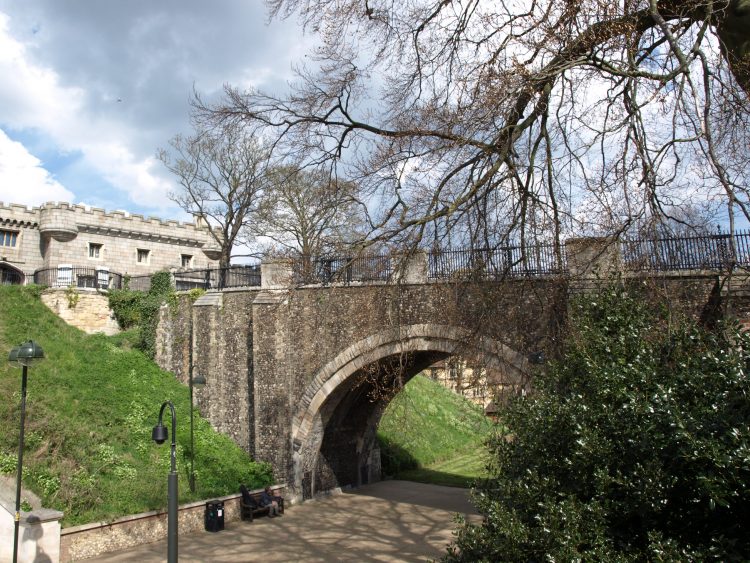 If you're like me and you travel to eat, then when you're on holiday you wouldn't want to waste a single meal - ever restaurant & every meal counts.
So, I was thinking if I was coming to Norwich for a week on holiday where would I choose to eat from the experience that I have now.
There you after just booking in to Lodge Farm Holiday Barns in the beautiful village of Bawburgh, beside Bawburgh Lakes, other hotels, self-catering cottages and Bed and Breakfasts are available!
And your off - - - - -
Its Friday night, you've been traveling for a while and have eaten some atrocity at a service station, so you don't want to go mad but you want something delicious and nutritious.
Friday Dinner
Workshop, 53 Earlham Road – free off-street parking around the area after 6 pm. Its rustic with order at the bar service but the food is divine. Small sharing plates of Mediterranean, Middle Eastern fusion dishes. You'd get 5 dishes with a basket of bread for around £30-40. Try their mango lassi for £3.50 or a Moroccan pot of mint tea and a 'Nata'. But they also have a well-stocked bar. Open from 3 -11pm, closed Sunday & Monday.
Or
Keep it local at Bawburgh Kings Head, NR93LS – our local pub, 4 minutes' drive away. A gastro pub at its best with classics and foodie delights or go for bar snacks for £2-3 to share including local pork pie, whitebait and olives. Local ales, fresh orange juice, hot bevies and great wine. Plus, in winter chill on a sofa near the open fire. Open 7 days a week.
The best Breakfast if you so choose
The Ivy – City Centre, London Street, NR21LD A infamous chain of high class Art Deco indulgent restaurants, with amazing service and a full breakfast menu. A full English for £13.50 or choose from other classics like Eggs Benedict.
or
Louis Deli & Cafe – 81 Upper St Giles, NR21AB - you may be able to park on the street outside or at least nearby via pay metre. Louis's offers a good hearty local breakfast with rustic toast and jam for around £8-12 inc, a drink. Open 7 days a week. From 8am / 10am on a Sunday.
or
Olives – a little café, specialising in the full English, down (40) Elm Hill. £10.50 for a full English inc, Toast. Voted the best in Norwich by my blogging mate the Fry Up Inspector. Closed on Monday – open from 9am.
Saturday Lunch
Of course, you could take a trip to North Norfolk, wander around Wells, Holt and Clay - - then book in to Cookies Crab Shop for the Lobster platter, around £15. It's just a shanty old fishing hut, with a summer house and a few marquises but it's an institution and a must for all seafood lovers. Plus, you get to look over the salt marshes on to the sea beyond. Closed on a Monday & closed over winter.
Or
Whip in to 'Byfords' in Holt for some lunch time classics, pastry's and amazing cakes.
Or
Drive to Sherringham or Cromer and have Fish and Chips overlooking the Sea. Like at Number One, Cromer – 'Galtons' gastro fish and chip pad. But take aways just as good if you can smell the sea air.
Saturday Evening Nibbles and Cocktails
You've had a busy day and now it's time to let your hair down, or keep it tied up!!!
See below for cocktails*
Jive – is a Mexican restaurant offering freshly cooked tacos and more. Go forsome smaller dishes and a few sides to share and ramp it up with a cocktail. On 24 Exchange St, first floor opposite Jarrolds.
or
Further down the Street is East 26 offering absolutely tasty sharing dishes. Order a few with a few sides to pick at - - of course with a cocktail. Closed on Sundays.
Or
Even further down the street is The Wallow – a fabulous help yourself if wanted (or not) wine bar (buy a card), offing a great deli selection of nibbles, cheeses, dips, breads and pickings – great to share.
Les Garrigues, 21 St John Maddermarket, closed on Sundays – a French wine bar offering deli sharing platters. A social hub – to chat, wine and cheese yourself silly.
Figbar – Next door offers amazing desserts and bakes with drinks. Perfect after a stole around the city. Closed Sundays & Mondays.
Let's get to the good stuff - - - - Cocktails
The Roof Garden, Union Building, 51-59 Rose Lane, top floor – it says what it does on the tin, well it's got a big roof garden. Offering a good quality selection of Cocktails, average £9.
The Gin Temple – upstairs, above Rabbit and opposite The Belgium Monk on Potergate is a classy, relaxed and friendly bar, specialising in local Gins - - and we have tons. Plus, a good selection of classic Gin cocktails. Around £6.50 or a single Gin and Tonic £6.
The Gin Palace – upstairs above The Mash Ton 16 Charing Cross is a 1920's speak-easy style bar, specialising in Gins from all over the globe, they've got 100's. Around £9.
Gonzo's Tea Rooms - 68 London Street, a messed up rustic mad collector's man cave – but such a cool eclectic space with a roof garden too. With some of the best cocktails in Norwich – try the coffee one! Around £8-10. Open every day from midday.
Bar Hawthorn – on 2 – 4 St Benedict's Street, offers an up and down stairs cocktail bar with a great menu, you won't get the classics but you'll get some great infusions. Closed Sundays and Mondays, open from 5pm.
Further down there is the man cave of a different brain, a scientific, vintage antique 1940's vibe called Arboretum, Sit on sacks and wonder at the oddities, while a massive dog loll's around. Vintage themed cocktails – no menu, all £6.50 just answer some questions and they'll magically make a cocktail that suits.
Go even further down and you'll get to The Ten Bells – a neat and tidy, steam punk bar with a Gin distillery, the home of Bullard's award-winning Gin. Offering a delicious selection of cocktails from £8. 74-78 St Benedict's Street, open from midday every day.
The Birdcage 23 Pottergate, opposite the Grosvenor fish and chip shop you can even eat them in the bar. Great teas, cocktails, drinks and beers. In this arty creative space. Open every day from 11am until midnight, Sundays from 4pm-11pm.
Then there's Sunday Lunch
A country pubs on the cards so you could if you haven't already go to
The Kings Head, Bawburgh.
My favourite Sunday Roast is served at The Rooftop Gardens in the city, £15 per person for quality perfectly cooked meat, served with a whole host of gorgeous sides and luscious gravy. All with views over the city and great service in this comfortable luscious space.
Further afield there you'll find lovely country houses –
The Norfolk Mead Hotel, Church Loke, Coltishall, NR12 7DN
2 courses £23,50, 3 courses £31 – Country hotel, great service and a magnificent Sunday lavish roast.
Sunday night requires nothing but chillaxing - - maybe a take-away.
Monday Lunch
Norwich has the biggest open-air market in the UK with tons of stalls including over 30 foodie joints. Like Lasagne, Empanadas, Bao Buns, Spanish, French, patisseries, great coffee, a juicing bar, pots of shellfish, a vegan diner, Sicilian, falafel, Thai, (don't go to the Chinese!) and Indian Street food - - some even have seating. But if it's hot join the locals and eat at the top of the market opposite the Guild Hall with the longest balcony in Europe - - just a fact!
Alternatively – go casual and eat pizza at either
Brick – 39 Market Place, beside the market, closed on Sundays ipen from midday – the best pizza in Norwich with amazing toppings.
or the second-best pizza restaurant
Donnelli's Pizzeria – they offer a mid-week small pizza and drink specials for £6 eat in, best value lunch deal in Norwich. Offering traditional Italian toppings. Open from midday 7 days a week.
Monday or Tuesday Dinner
Haggle – 13 St Benedict's Street, open from midday 7 days a week. The million-pound Turkish restaurant with style and splendour. Go for sharing starters and dips and then tuck in to char grilled kebabs or slow cooked Middle Eastern stews, with a good portion of dipping bread. Finish with Kanufa – the best dessert in the wold, think mac n cheese but sweet! They also do amazing cocktails. So, if you fancy sitting on the bar and snacking do that instead.
Al Dente on 25b St Giles street, on the corner of St Giles car park is a lovely little modern Italian restaurant making fresh pasta and other classic authentic dishes at good prices by their resident Italian chef. Open 7 days a week from 8am, Sundays from 10am for breakfast (for baps), lunch and dinner.
Fancy an Indian my favourite is The Tamarind in Blofield, Woodbastick Road, NR134AB, 15 – 20 minutes' drive from Norwich City Centre. Always freshly cooked with crisp poppadum's. Open 7 days a week for lunch and dinner, except Friday lunch.
The Giggling Squid, 24 Tombland is a new growing family run chain, but they serve authentic Thai dishes cooked by Thai chefs. It's on the expensive side like most Thai's but the food is delicious and served with a modern twist. Their Massiman curry is the best around (apart from mine at Lodge Farm Kitchen – Cookery Courses). Open every day from 12.
Middleton's Steak House & Grill, 11-15 Timber Hill, is a local family run restaurant of two. It offers quality steaks, grills and burgers at good prices with good portions. Smart restaurant, fabulous service and plenty of tables but because its buzzing you might have to book at night, they also offer a good priced lunch time 2 (£8.95) or 3 course meal (£9.95). Open from midday 7 days a week.
Gonzo's – Also offer the best burgers and wings in Norwich (see cocktail info) - - its mad and rustic but if you're in to burgers & dogs - - 'Gonzo's' a dog you know.
Blue Joanna's a piano bar and restaurant on 103 Unthank Road just outside the city, NR22PE. They do amazingly tasty sharing dishes, like the best chicken wings of my life. If you love good food with exotic flavours, you'll love Blue Joanna's. Closed Sunday & Monday, open some lunches and Wed-Sat evenings from 5.30 or 6pm.
You'll need to fit in an Afternoon Tea - - - skip lunch, skip dinner or go for a light bite later in the day.
The Assembly Rooms, Theatre Street – is a gorgeous Georgian mansion in the heart of the city on theatre Street, they'll often put on events, have rooms of art or simply pop in for coffee and cake in their central lounge area. But they just happen to offer the best afternoon tea in Norwich for £20 per person, served from 12-4.30pm. With an amazing pastry chef – you won't be disappointed. Plus think of this place for pre-theatre meals, light lunches or simply cake & coffee until late.
St Giles House (41-45 St Giles Street) – is a lavish Art Deco Hotel on St Giles. Great for tapas on the terrace, a cocktail in the bar or afternoon tea in their restaurant. Attentive service and impressive pastry's. Cocktails around £8 - 9
Biddy's Tea Rooms – 15 Lower Goat Lane, offer a more relaxed casual café style afternoon tea, pre-booking only in their quirky upstairs sitting room. With your choice of freshly baked cakes and tray bakes along with flump scones & a good choice of tea. Afternoon Tea £13.95 pp
Tuesday, Wednesday or Thursday Lunch
The Tipsy Vegan – 68 – 70 St Benedict's Street, yes, its vegan but its Diner classics and sharing stuff with the most amazing flavours. Plus, they do wicked cocktails. Open every day from 11am.
Shiki's – A brilliant Japanese restaurant on 6 Tombland. Go for a lunch time bento box (£12) with some Saki or Green tea. Closed Sunday & Monday, open for lunch and dinner. For other Japanese recommended restaurants (untried by me as yet) try Ciscoe's on 25 Ber Street, for Pan Asiana & Sushi, open every day for lunch and dinner. Or Soyokaze 13 St Giles with a small intimate dining area & additional seating upstairs, offering a lunch time deal & full authentic menu for lunch and dinner.
The Dining Rooms at Cinema City, St Andrews Street with its cool independent vibe part of the picture house chain, with 3 screens offering the best in films. Eat well in the restaurant or eat casually in the bar plus alfresco seating. While you're there take in a picture, you can even take wine in from the bar or some locally made snacks from the shop. Think of this place for dinner too. Open every day from 10am.
Timber Hill Bakery – 27 – 29 timber Hill, An Irish couple decided to choose us lucky Norwich people to land their amazing bakery. They offer fabulous toasties, sarnies and pastries. With good old juices, teas and coffees. Closed Sundays & Mondays, open every day from 8am, offing breakfast and Lunch, afternoon pastries.
The Waffle House, 39 St Giles Street - is without doubt a must, it's a Norwich institution since 70's, I've been waffling for 35 years. It's still just so good – perfect flavours, a great menu using local ingredients with a good veggie selection. My highlight is plain waffles with banana's and vanilla ice-cream, dousing in humungous amounts of maple syrup from the table. Try the malted milk milkshakes, try the side salad with blue cheese dressing and go large, double your waffle for around an extra pound. They also do a great 2 course lunch time special for around £11 per person. Opens all day from 10am – 10pm (Sat 11pm) for brunch, lunch and dinner.
Namaste – there's 2 in Norwich, one large one on 130 – 139 Queens Road, maybe more of an evening place and 1 little one on 2A Opie Street, city centre more for lunch. Fabulous South Indian Vegetarian food – go for a big selection of starters to share and a Dosa pancake, if you're both hungry add a curry. No licence, bring your own with corkage.
Dim sum is served at The Baby Buddha in 135 – 137 Ber Street every lunch time (but closed Mondays). Share 4 – 6 dishes between a couple at around £2.80 - £4 per dish. I love the Char Sui Buns, turnip Cake, prawn or pork fung chung and the Vietnamese fried spring rolls. But don't forget to add some steamed dumplings. Open all day for lunch and dinner, with a full Chinese menu.
Light Bites - - or Takeaways
Moorish – 17 Lower Goat Lane, a falafel café to eat in or take away. They do a good valued £6-ish for falafel and lemonade. Three Home-made falafel, stuffed in to wholemeal or white pitta, packed with salad, three dips, humus and more with a home-made lemonade that's minty and cold. Plain stuffed falafel from £4.70 - - but add a few flourishes like feta, aubergine, cous cous - - - -
Take away from the market - - go for Churros and Chorizo they do a good home-made daily stew. Sicilian Street Food offers a good pizza or calzoni (£3.50) and while you're at it grab an arancini or two. OR Mia Cocina, she'll pack you up a home-made south American pastry with tons of zesty fresh salad. To name but a few - - - - the worlds your oyster in Norwich Market.
Flaming Galah – 123 Ber Street, An Australian pie shop serving meaty or veggie delights on mash, peas and gravy. With exciting daily fillings like duck and red cabbage. Parking metres outside. Small seating area inside but it's mainly a takeaway. Take away around £5. Day times only, closed some days – please call first.
Alley Ole – 20 Bridewell Alley. A chicken shop, sit in or take away. Rotisserie juicy chicken with potato bravas and salads. Also serving Pinxtos after 6pm plus cocktails and beers all day. Closed Sundays and Mondays, open 11am – 11pm.
Grosvenor – 28 Lower Goat Lane. Number one on Trip Advisor and well deserved, maybe the best fish and chip restaurant in the world. Go for the cool stuff like five-pound squid, or wako taco, go for their afternoon sea (platter for 2) or simply a gorgeous piece of Suffolk caught fish with perfectly cooked in beef dripping Norfolk potato chips. You can also take them opposite to the Birdcage pub but they have an amazing basement to chomp them in – just order up and they'll bring 'em down. Closed Sundays, open daily from 10.45am – 7.30pm.
Wednesday or Thursday Dinner
Let's go special with five amazing restaurants to spoil yourself in.
Benedict's – on the road of the same name, 9 St Benedict's Street. With Norfolk's own Food hero Chef Richard Bainbridge, creating some gorgeous flavours in a modern cheffy style. Closed Sunday and Mondays. Open for Lunch and Dinner.
Roger Hickman's - In Upper St Giles – go for the taster menu with accompanying wine or stick to the classic 2, 3 course evening dinner. Classic creative and inventive with a good reputation and good following. Lunch and Dinner
Farmyard – 23 St Bandits Street, Offering 'Bistronomy' medium priced luscious award-winning stylish food. Choose from modern eating to hearty classic dishes. With a good wine selection and great service in this modern, airy busy restaurant. Closed Sunday & Monday. Open for lunch and dinner.
The Ivy – because only special cities have an Ivy. Decadently decorated with impeccable service and cooking. Classic dishes to comfort your soul.
Bishops – 8 – 10 St Andrews Hill, run by a French fellow this is a small independent romantic style restaurant with well-appointed dishes and scrumptious indulgent desserts. Offering a good priced two or three course evening meal. Closed Sunday & Monday. Open for lunch and dinner.
So, you've had a magnificent week in Norwich eating your way through some amazing foods. But quite frankly you're sick of fabulous food, you can't wait to get home put your feet up & have a lovely cup of tea with a hearty portion of beans on toast.
Because tomorrow the diet will have to start!
By Zena Leech-Calton ©
www.lovenorwichfood.co.uk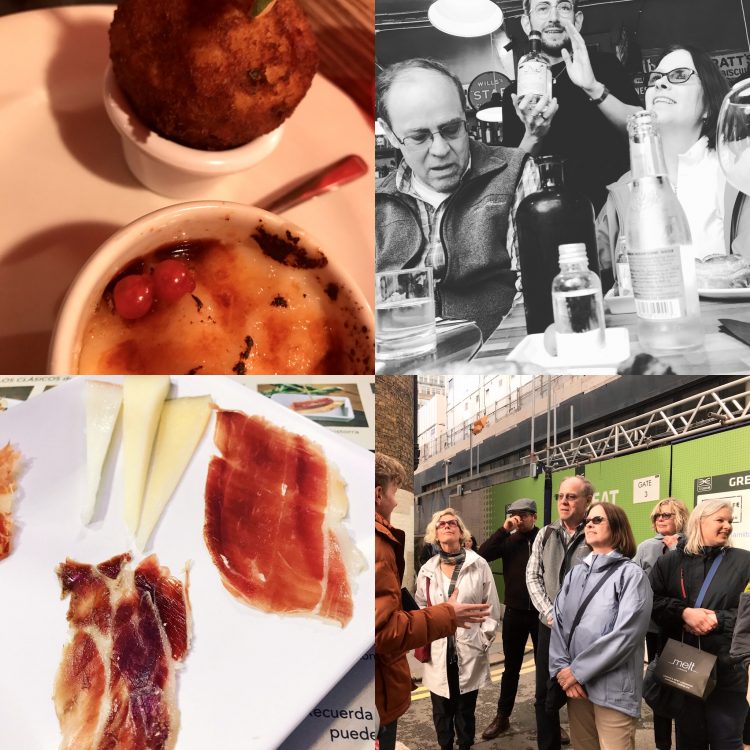 I love to travel and I especially love to eat, in fact I love to travel to eat – there's nothing like food, simple ingredients delivered fresh from nature & cooked with mouth-watering cultural expertise.
I wasn't exactly on holiday but we were in London to celebrate my hubby's big birthday. I'd already booked a lush hotel in Soho with a roof top hot tub plus Yottam's restaurant next door for lunch, so what better way to celebrate our comparable passion for the yummy stuff than a food and drink walking tour.
I say 'comparable passion', I'm usually the one cooking it and he's the one eating it!
Anyway, we booked ahead with 'Eating London Tours' for the 'Soho Twilight Food Tour' meeting at 4.30pm in front of an old haunting spot of mine, a pub I used to frequent in my London Cheffing days.
We were treated to two tour guides, one had just completed training and was more than capable, both were actors and well averse to delivering a confident and fluid tour, with friendly and fun professionalism.
And we were off, a good old introduction to the mainly American group with a small group of British girls, about 10 of us plus the guides. Not too big that you're trailing behind unable to hear, but small enough to be friendly as we walked around, it's a very sociable thing.
Our first port of call was at a local Mexican a very short walk away for a delicious mini frozen Margarita and a couple of tacos. There's a lot to eat on these tours, so its advised to come hungry (maybe not go to lunch at Nopi, even if you take it easy and share a dessert!)
It's good to know there's a jug of water in each venue along with toilets which comes in handy.
There's a great deal of knowledge as we walked around, all about Soho's history, its famous residents, its architecture and its seedy side – especially its grotty core, which makes it such a special and exciting place.
I worked as a chef in London for 10 years, spent a fair bit of time in Soho but I got to find out all sorts of things I never knew, saw things I never noticed and was amazed by all the oddities of Soho, along with what Soho actually means? (I'm not going to tell you)
I loved the next stop after a brisk walk through the park and tucked away up some alleys was the Gin Club, we got a full-sized G&T with an introduction from the owner. And if that wasn't enough we got a mini British pie, which worked well with the botanics of the house Gin.
Enrique Tomas was next, with its magnificent window display. These Spanish 'parma ham' beasts are becoming very popular all over London, with new branches popping up all over the place. We tasted 3 Iberico hams and 3 divine cheeses along with a good slug of rich red wine.
It's worth mentioning that every stop includes a sit down, making the tour manageable for all ages and abilities, as long as you can cope with the small walks in-between. This tour very much focuses on food from all over the globe, which is what Soho's all about, an eclectic melting pot of all sorts.
My favourite foodie spot was the Basque Pintxos joint where we got to choose any 2 dishes each from the amazing display of hot and cold tapas. I went for a hot salt cod croquette and a creamy Catalan dessert. Both delicious and no Twilight food tour would be complete without a little drinky to go with the food, so the waiter poured out some wine from a great height into little chunky glasses.
China Town was next on the list, a hidden gem of a Chinese restaurant, for some moist and moorish steamed dim sum and a decretive pot of fragrant cocktail.
As if we weren't full enough and packed full of interesting facts, our final destination was 'Basement Sate' for a well-deserved sweet conclusion of chocolate yumminess, oh, and of course a little mini champagne based cocktail.
Wow – – 'oh, what a night'. Walking around from light to dark. Eating, drinking, chatting, listening and enjoying all Soho has to offer.
We finished around 8pm in Carnaby Street, early enough for ravers and late enough to enjoy one last tipple before we dragged our worn-out and slightly tipsy bodies back to the hotel.
The tour was £95 per person. I initially thought it expensive but on hind-sight it was good value. Six good sit-down places for snacks and drinks, a guide with the knowledge, a good old walk and over 3 hours of entertainment.
A fab time was had by all – –
By Zena Leech-Calton ©
Food writer and cookery tutor – – I do Food Tours in Norwich too, you know!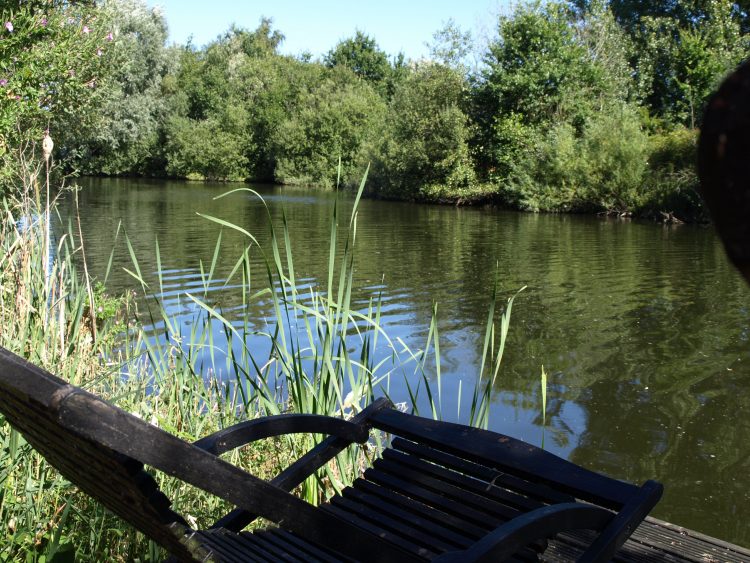 Whats happened in the UK this year - were all saying the same, last year was bad enough but business is even slower this year. That Beast from the East did'nt help, with a rise in sunny continental holiday being booked. After all why would anyone look out of their window at ten tons of white slush and say 'oh, I think we need a break in Britain' Then we had the rain and the floods - all putting people off booking. BUT its GORGEOUS NOW.
So after 5 years of excellent bookings, this year we are down - - good news for customers who can grab last minute bargains but not so good for me with the bills still pilling up. But then thats the joy of running a business - - at least I'm not selling pork to Dubai, or party poppers to the morgue or grass seed in the sahara.
After all, I've got something good to sell - - Lodge Farm's top 10 reasons to come on holiday here.
Stunning Views over Bawburgh Lakes - - catch a kingfisher, a glebe or a heron.
2 Acres of Activities - children playground, adults zip wire, picnic area, trampoline, lakeside path, seats and benches to chill.
4* Gold accommodation - its hard work to keep up standards, but we do with cleaning, quality of furnishings, little extras and good service.
Norwich is so close - just a 10 minutes drive away, its in the top 10 of shopping places in the UK.
Water, Water every where - we are surrounded on 3 sides by the lakes, the broads is 20 - 30 minutes away, beaches are 10 more with tons to choose from.
Family Friendly - Were nice and helpful and live next door at lodge Farm, handy if you want to borrow some DVD's or ask about recomendations. Any potential problems are quickly resolved. Plus your supporting local businesses.
The Borrowers List - - this is my thing! a list of all the fabulous things you can borrow, like bikes, massage chairs, DVD's, games, PSP - all sorts. Plus theres the treat box!
The Wildlife - - i've counted 25 different birds, we entice them in the seeds. The rivers full of fish, swans, geese, ducks, moorhens and more. Then theres the rabbits, deer, otters, mink and shrews - - - - - the list goes on.
A fabulous price - - forget Centre Pks, thats triple the price with less of the luxury and wildlife. Our prices are not only competitive, we keep them lower then other holiday rentals around to guarantee good value, plus we extra touches to make your break even better.
Well Stocked - - I'd like to think everything you would need is in your barn. From the scales to the coffee pod machine, I think I've thought of everything and if I haven't you can borrow it.
So what are you waiting for - - contact me to book. A £75 holding and damage deposit is required via paypal or bacs with the remaining balance due 6 weeks prior to arrival and thats it - - - follow our directions and enjoy.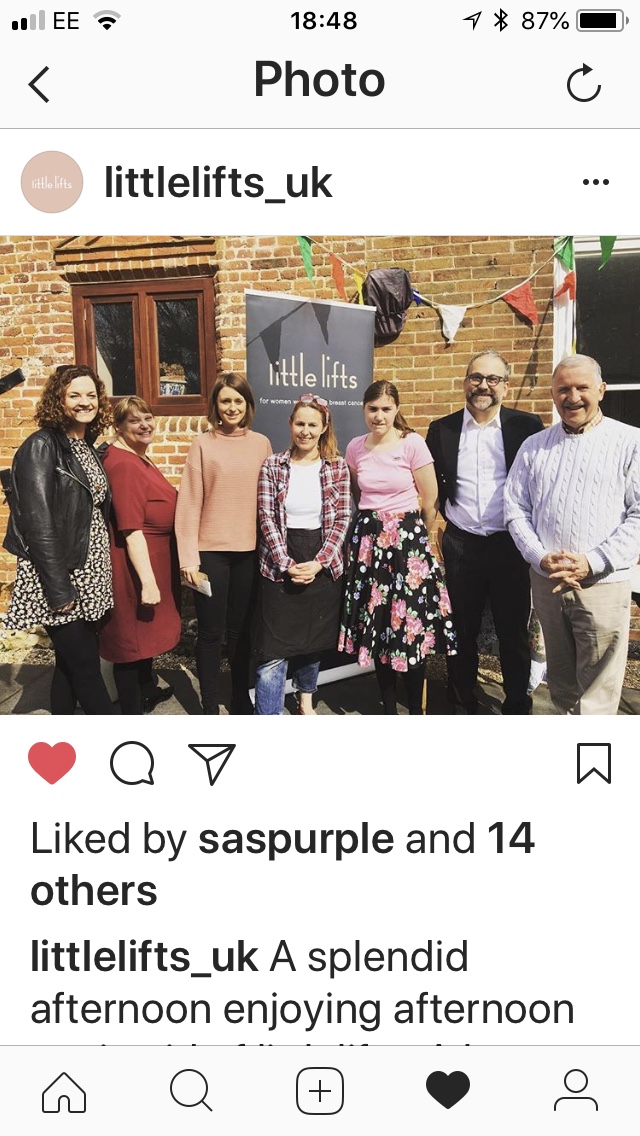 Its official East Anglia has the best climate in the whole of the UK - something to do with the fact that Norfolk and Suffolk is the big Smurf nose on Great Britain, the North Sea and the wind pull direction from the Mediterranean but I don't really know! But it is a fact. Like the fact Elm Hill in Norwich has more Medieval Buildings down that one street that the whole of London. Or Norwich Market is the biggest outdoor market in the whole of Europe or is that one of them (its big though).
But I do know Spring is in the air and we are expecting a heat wave, YES a HEATWAVE - not Doritos, actual nice weather, sun and everything. I can't wait, I love Spring. Lodge Farm is full of Daffodils, a million at least (I cant count), blossoms budding, little cute goslings are wandering around with noisy parents and the smells in the air are lusciously spring like.
I'm a little relieved because my 5th Annul PoP uP is over, I was worried about the weather, at one point a thunder storm was expected just as people were supposed to be arriving, but the sun came out and the feeling that Spring had landed was in our hearts as we filled up tea pots and took cake stands round jam packed full of freshly baked scones and sarnies.
49 people booked in for Afternoon Tea and we all know cakes are best made fresh, so I had an early start yesterday but it was all worth it. I even made my husband dress up like a Northern Toff and wheel the cake trolly round, Tiramisu pots, Date slice, Orange and Yogurt cake soaked in orange syrup, Ginger Parkin, fresh strawberries and Chocolate shortbread with fresh cream and raspberry adorned the display. But not before their choice of 2 either cheese, fruit or plain scones with 'The Tea Ladys' Strawberry & Champagne Jam, Clotted Cream and butter. But before that 'Can we get a Rewind' (thanks Craig) the guests had Chicken Coronation (it was good - I do a mean CC), Smoked Salmon and Cress, Cream cheese with cucumber and a smudge of mint jelly and Home baked ham with Local Fig'n'Apple Chutney.
The tea was Wilkinson's Afternoon Tea blend, Ceylon and Darjeeling. A scrumptious little number. BUT flipped heck I didn't expect the on-slaughter of Coffee drinkers, its AFTERNOON TEA, the clues in the title - I was cut short on that one, with only 2 cafe-tier and one bag of spare coffee. I think we must off made a dozen or more coffees all of whom had 2 - 3 cups each. I hate coffee now!!!
But everyone had a lovely time and we managed to raise £200 for 'Little Lifts' a local charity aiding gift boxes to women with breast cancer in primary care. Saskia my daughter earn some pocket money helping out as the main waitress and organiser, Nick my hubby didn't get paid in money but in cake later and my son managed to over sleep and earn nothing, hay ho!
Don't worry about Nick I'll take him out for lunch, to say thank you - maybe Afternoon Tea - - Noooooooo more, he cries!
Don't worry about me I've ended up with 11 cake stands, 2 vintage sets of crockery, 4 extra tea pots, a fridge full of whipping cream and Tiramisu, a whole ginger cake (I don't like Ginger Cake), 1/2lb of ham and some left over 'squids' for lunch in the city, oooh, and achy feet. Some good some not so good - just like life.
I won't mention my teen son!, thats a whole other blog.
So, thats over, the holiday barns are my priority now with Summer Bookings coming in  - its amazing what the threat of a heat wave does. We've been so slow holiday business wise lately, with the knock on effect from 'The Beast from the East'. I mean no one in their right mind sits in-doors while a foot of snow lands in their garden and thinks 'Lets go some where nice in England on Holiday in a few weeks'. Then there was the rain - - thanks the skies that spring is on the horizon and business is starting to pick up. I need the money, bills don't stop for the weather -
Did I tell you the one about my car - - I'll save that one for another day (Hint' its gone and I'm driving a hire car - yes, it was the weather, kind of).
So - - - - come and see us, fancy some cooking, fancy a holiday, fancy a break away, fancy my husband (you can have him), fancy some wildlife, fancy skinny dipping in Bawburgh River with a tea cosy on your head - - - its all here at Lodge Farm.
Over and Out - Zena x
www.lovenorwichfood.co.uk - me other one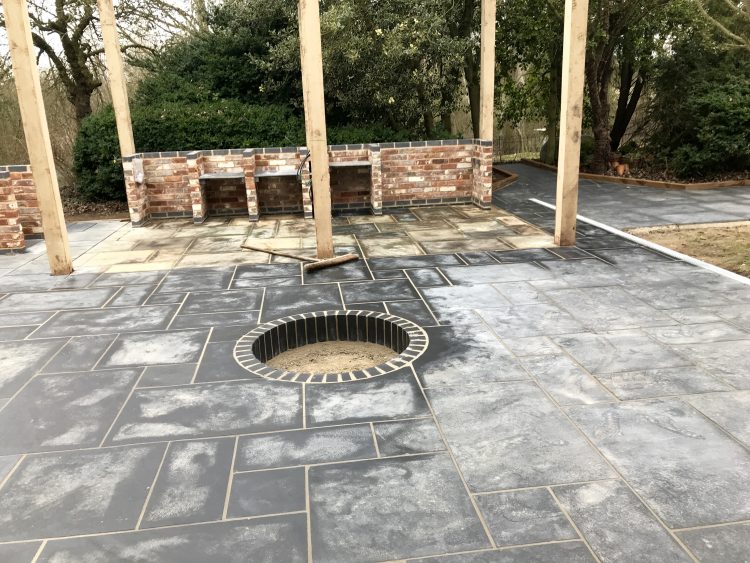 Seven years of Lodge Farm, seven years of debt, seven years of working - but finally after 3 years of saving we have fitted the last piece of the jig-saw.
For years I've been looking out of my kitchen window - in between teaching cookery courses and scowling at the 1940's concrete patio, uneven, unloved and old fashioned. We've done bits and pieces through the years but couldn't afford to do it all properly - after all its a massive slab of back garden.
So 3 weeks ago I got the boys in - Gavin, Karl and Kieron from GPS Landscaping to do their magic on my big plan. http://www.gpspaving.co.uk in case you wanna recommendation - tell them Zena sent ya!
Of course being a foodie it was all about the Al Freso BBQ, an outside kitchen was just the thing I dreamed about. So the Brazilian, south American pit is sunk in to the paving to form an Earth Pit BBQ, for all sorts of cooking. You can cook a joint of meat on a skewer stuck in to the ground, judge the wind and put it where the flames will blow the joint to cook. You can add a tripod and cook in a dutch oven  - a pot hanging over the fire. You can burry some goodies in tin foil or if I'm feeling fruity, banana leaves and cook in the ambers, or even hot stones. Plus you can cook off a stick - like marshmallows or smores. Endless fire fun.
Then theres the Victorian Bricked BBQ area, all in sections, one for a BBQ grill, one for a Butlers sink, one massive long slot for the Okabbassi / Mangal Grill (Kebab Trough) and some for the worktops or anything else I fancy. Plus we've put in a stand for a Pizza Oven, when we can save up some more.
So - im sooo soooo happy, its finally nearly, almost done! - Just got to grab the electrician, the plumber to copper weld some taps and the carpenters to fit the roof - - oh, and the fencer to keep out the wildlife.
Then I can put on some summer spectaculars like out Afternoon Tea being held on April 14th from 1pm - - see events on www.lovenorwichfood.co.uk for more information. The official opening of 'Lodge Farm's Outdoor Kitchen'. Then hopefully I'll put on some BBQ cookery classes through the summer - more details to follow.
So come on over and take a gander - - but don't fall down the pit!!!