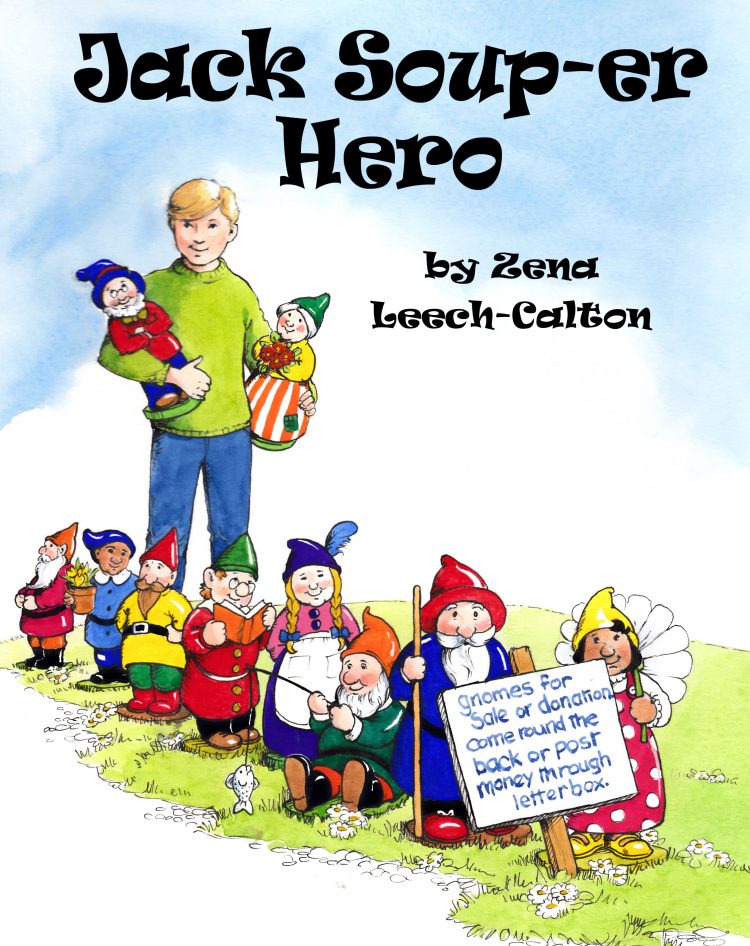 Jack Soup-er-Hero
I love writing nearly as much as the foodie thing and one day I hope to replace everything with writing (apart from sleeping and eating) - -
It started way back when my mum encouraged me to write a diary, every Christmas she would buy me one, I'd then fill it with feelings, things I'd done and childhood nonsense. I even kept a separate teen one - - but I won't tell you what went in that!
One day my mum found it, flicked through it with a cheeky grin on her face so I immediately snatched it off her and told her it was private – but I think she'd already read it. Hasan to say I tore it up and flushed it down the loo - - I learnt then that evidence is not in what you say but what's written or recorded – hence you'll never find me flushing out my baggage on social media.
Anyway, short stories followed then poetry in to my late teens and twenties. Then when I was mid twenty I wrote my first children's book 'Tick Tock Time' all about a different dimension paralleled with school life. Containing a romance, creatures, a chimpanzee who liked custard and a world of vivid colour. I sent over 20 synopses to publishers and agents but got no joy. In the meantime I started ' The Journey' about a child discovering a large metal object buried under her shed, that could whip her up to space - but I gave up after getting so many rejections for Tick Tock Time.
Then when my children were baby's and asleep I started an Adults Novel 'The Night it Happened', 77,000 words – sex, violence, a murder mystery and a love story all rolled in to one. I loved it, but my hubby got to chapter 3 and told me it was pornographic!!! But I edited it, played around with it – made it perfect and again got rejected from publishers.
Then Jack was born, while we were living in the caravan renovating Lodge Farm, I wrote a gorgeous little children's story about an autistic boy and his challenges coupled with his achievements, spurred on by Mrs Grandhouses amazingly nutritious soup samples from his mum's café. Including the day he dealt with 50 annoying Gnomes and made the shed of memories.
"Bugger publishers" – when I eventfully finished editing it and got the front cover deigned and painted by a local artist in our village – I decided to self-publish.
Then 'Jack Soup-er-Hero' was printed in marvellously black & white glossy pages, for all to flick through read and enjoy.
I'm selling the book for £5, pick up from me (Zena) or at Lodge Farm, or I'll package and post in the UK for £1.50 (£5.50 worldwide)
– you can simply pay via friends and familyon paypal – *** zenick88@hotmail.com= £6.50 for one copy, £11.50 for 2.
Ref – Your full name & JACK
Then *** e mail me, let me know its paid along with your FULL address and I'll pop it in the post in time for Christmas - - -
I've even got my next two children books in my head - the first is about a secret teenage millionaire, using his secret stash to change his community and turn his family on their heads - in a good way!, the second is based on another planet about a ? farm, thats going to be epic.
BOOKS make lovely stocking fillers - - perfect for over 5's to read with a parent, or read alone from 8 – 12. The story is set over Christmas and is pleasantly charming with some gorgeous little twists and turns & everybody's sure to fall in love with Jack.
Happy Reading - - - - -
Zena Leech-Calton ©
www.lovenorwichfood.co.uk