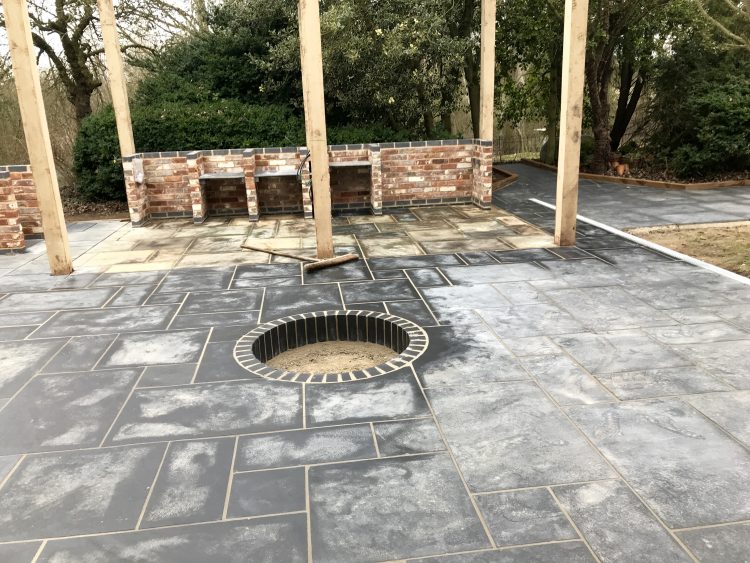 Seven years of Lodge Farm, seven years of debt, seven years of working - but finally after 3 years of saving we have fitted the last piece of the jig-saw.
For years I've been looking out of my kitchen window - in between teaching cookery courses and scowling at the 1940's concrete patio, uneven, unloved and old fashioned. We've done bits and pieces through the years but couldn't afford to do it all properly - after all its a massive slab of back garden.
So 3 weeks ago I got the boys in - Gavin, Karl and Kieron from GPS Landscaping to do their magic on my big plan. http://www.gpspaving.co.uk in case you wanna recommendation - tell them Zena sent ya!
Of course being a foodie it was all about the Al Freso BBQ, an outside kitchen was just the thing I dreamed about. So the Brazilian, south American pit is sunk in to the paving to form an Earth Pit BBQ, for all sorts of cooking. You can cook a joint of meat on a skewer stuck in to the ground, judge the wind and put it where the flames will blow the joint to cook. You can add a tripod and cook in a dutch oven  - a pot hanging over the fire. You can burry some goodies in tin foil or if I'm feeling fruity, banana leaves and cook in the ambers, or even hot stones. Plus you can cook off a stick - like marshmallows or smores. Endless fire fun.
Then theres the Victorian Bricked BBQ area, all in sections, one for a BBQ grill, one for a Butlers sink, one massive long slot for the Okabbassi / Mangal Grill (Kebab Trough) and some for the worktops or anything else I fancy. Plus we've put in a stand for a Pizza Oven, when we can save up some more.
So - im sooo soooo happy, its finally nearly, almost done! - Just got to grab the electrician, the plumber to copper weld some taps and the carpenters to fit the roof - - oh, and the fencer to keep out the wildlife.
Then I can put on some summer spectaculars like out Afternoon Tea being held on April 14th from 1pm - - see events on www.lovenorwichfood.co.uk for more information. The official opening of 'Lodge Farm's Outdoor Kitchen'. Then hopefully I'll put on some BBQ cookery classes through the summer - more details to follow.
So come on over and take a gander - - but don't fall down the pit!!!