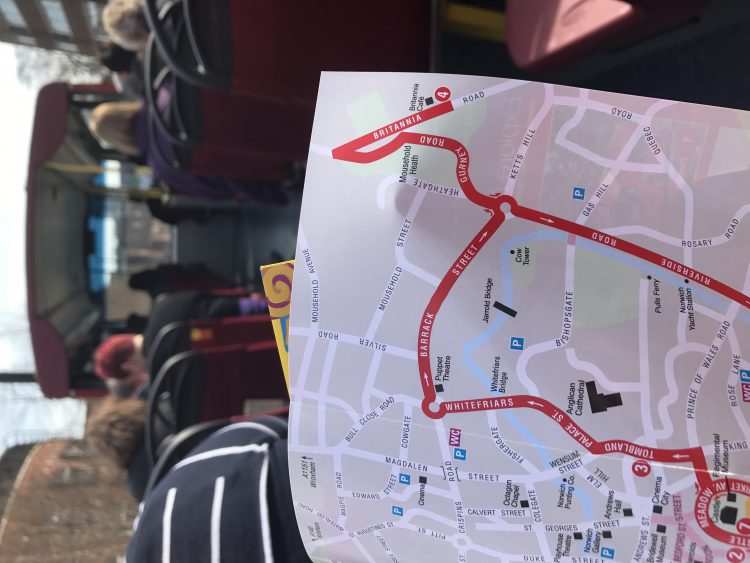 Today I was lucky enough to get a free trip upon the big red bus to promote tourism in our fine city – When you find out Chapelfield roundabout used to be called Phenomena Corner because it was the coldest place in the city you know you're on to a winner. Tons of seats upstairs or down, open or not – any weather for £10 adults and £5 kids for a 24 hour pass plus concessions and family passes at reduced rates. Just the round trip is about 50-60 minutes with a running commentary – telling you everything you need to know about our magnificent history and its glorious buildings – take in The Assembly house, the castle, the cathedral, the puppet theatre and more – Plus you get to go all the way up to the top of Mousehold and stop of at Britannia café for a free cup of tea with a bought in cake. But between you and me Britannia café is amazing, views over the city, really reasonably priced food, ice-creams, cakes, lunch and dinner – there is something for everyone like kebabs and pitta, to fish and chips to soups to sarnies to salads – so its well worth staying over for lunch and a walk on Mousehold before hopping back on the bus again. Plus, the bus has stops at Norwich train station and the Bus terminal – so a great last thing to do if you're on your way home. There are 9 main hop on hop off stops including Tombland for the Cathedral and Elm Hill (with the most medieval buildings in one street than any other place in the UK). A stop for the castle so you can take in the museum or simply shop at castle mall (one of 2 indoor shopping centres). Plus, a stop on Kings street so you can visit Dragon Hall or riverside for cinema, restaurants, bars and more. I really enjoyed myself, learnt a whole lot more about the city and would truly recommended it to anyone even if your local - - - - ps - the bus didn't drive upside down - but the picture is! - -
Norwich has over 500 food and drinking places, with 100's of independents in that list. When I travel I google and trip advise all the best places to eat, its not about price, its about the experience and the quality of the food - the love and the passion the chef plants in to each dish. So, it can be the ethnic cafe, the greasy spoon, the 3* latest rave or simply a locals back street wonder - if it serves up good food, I'm there - I don't even care if the owner is a Whelk and the Waitress a clam - - just give me the food!!! My top places to graze –
Cookies Crab Shop – The Green, Salthouse, Holt, NR25. (ok not Norwich but worth the 40 minute drive in to North Norfolk) My absolute favourite food is Lobster and you can get half a lobster platter for under £15 packed with salad, prawns, several types of smoked mackerel, cockles, good old fashioned bread & butter and more. It's a rustic beach shack spilling out in to the yard with a purpose made summer house and a marquis crammed with seating but it's pure charm on the North Norfolk coast. Bookings a must in the summer months or get a takeaway and enjoy on the beach.
Gonzo's Tea Room – 68 London Street, Norwich. Is a crazy mad eccentric 'man cave' full of wonder, like a zillion collectable figures, pictures and stuff on stuff. But they serve the best burgers & sweet potato fries in Norwich and certainly the best wings with 7 finger licking toppings like blue cheese and walnut. But it's not for everyone – it helps if you're a little crazy yourself!
Figbar – 23 St John Maddermarket, Norwich. Sometimes all's you want is dessert and desserts all they do (we'll except for a couple of savoury pastries). Delicious top London standard blends of sweet yumminess for around £6-8 or just opt for one of their freshly baked and prepared cakes 'n' bakes – all done to sweet perfection.
Workshop – 53 Earlham Road, Norwich.                   My favourite lunch time haunt. It's not about the service or the restaurant - that's all casual, it's about the delicious Mediterranean Middle Eastern infused tapas style dishes. Choose a couple each and share. The menus stuck to the bar (don't try and move it!) and served from mid-day. I've only ever had one good dish the rest have been amazingly gorgeous and superbly delivered in taste.
St Giles Hotel – 41-45 St Giles Street, Norwich.                   If you fancy superb service in a gorgeous art deco setting with quality food to match then St Giles is pure indulgence without the cost. St Giles is part of my food and drink walking tours, because it simply ticks all the right boxes.
Grosvenor Fish & Chips – 28 Lower Goat, Lane, Norwich. Norfolk potatoes and Suffolk fish are superbly cooked together making the tastiest Fish & Chips probably in the world. The Grosvenor is no 1 on trip advisor and rightly so. The seating downstairs is atmospheric, the menu inspiring with exciting goodies like Wako Taco, five quid squid and more – for me it's the highlight of my walking tour, just one of the many places we visit for a bite.
Baby Buddha Chinese Teahouse –139 Ber Street, Norwich. One of my food pleasures in life is Dim Sum, I've even started teaching it at Lodge Farm Kitchen. Baby Buddha does a great lunch time menu with a few dozen tapas sized Chinese classic fried, steamed and baked goodies. I love the turnip cake – actually made from mooli. Fried wontons, spring rolls and steamed BBQ pork buns are all classic favourites but Fung Chung is my go to dim sum – steamed thick rice noodles stuffed with a choice of pork, minced beef or prawn. I enjoy my dim sum with a pot of jasmine tea at least every other month.
Moorish – 17 Lower Goat Lane, Norwich. Take away or eat in falafel pittas – packed full of freshly prepared shredded salad, humus and a choice of chilli, yogurt & mint or tahini sauce – or go for all three. A basic falafel to take away is £3.80 delicious, filling, cheap and healthy.
Woolf and Social – 21-23 Nelson Street, Norwich. Local Artisan bread, tempting exciting sharing dishes and great cocktails. Everything tastes so good in this local, just out of the city small but perfectly formed modern restaurant.
Blue Joanna's – 103 Unthanks Road, Norwich. A great mix of blue tacos with different fillings, small sharing dishes and tasty sides, they do the best fresh cut chips in Norwich – perfectly seasoned and moorish – load the table and enjoy. I can't wait to go back for breakfast the menu looks amazing.
Brick Pizza – 39 Market Place, Norwich.          Simply the best pizzas in Norwich. I like the one with pear & walnuts but the classics are good too. A great dough, amazing tomato sauce and the best quality toppings all cooked in a wood burning oven to perfection.
Dray yard Smoke House – 31 Exchange Street, Norwich. My kids (well teens now) love this American smoke house of meatiness. For lunch they sometimes do an amazingly good value £5 mid-week main meal – with choices like burger and fries, ribs n wings, mac & cheese or maybe even a burrito with slow cooked shredded pork perfect for family, friends or a lunch time treat.
Waffle House – 39 St Giles Street, Norwich.                   A family favourite. I've been enjoying these tasty waffles for over 30 years. The milkshakes are the best in Norwich, I love the fact they source locally and ethically. My favourite is the hummus and avocado but I sometimes go for the specials if they have a curry on plus I can never resit the house salad with blue cheese dressing on the side – always tasty with friendly service.
Flaming Galah – 123 Ber Steet, Norwich.                   My favourite chilly day take away. An Australian pie and mash shop. The specials are very special I've enjoyed succulent duck with red cabbage and come exciting Thai infusions, along with their classic menu – I love the chicken pie, so creamy and packed full served on a bed of mash, topped with mushy peas and smothered in rich gravy for just under a fiver with a drink to take out.
Café Gelato – 6 Opie Street, Norwich. Norwich's new proper Italian Gelato shop, gelato is freshly made ice-cream made mainly with milk making it soft and smooth. The Italian owner and creator makes tasty seasonal specials. It's a great place to pop in to for a scoop and coffee.
Namaste – 2a Opie Street, Norwich.                   While working in London as a chef, we often enjoyed south Indian vegetarian food always ordering Bel Poori, a bit like rice krispies, Bombay mix, cold potato & raw onions with spicy sauce, tamarind and yogurt – sounds strange but it tastes incredible. Namaste offer similar south Indian favourites including Dosa's large stuffed lentil flour pancakes.
Assembly House – Theatre Street, Norwich.                   One of my absolute favourite things to do is indulge in afternoon tea and I think the Assembly house is the best place to do just that. An historic Georgian building full of charm with great service to match. A perfect afternoon tea has to offer fresh loose tea, cut the crusts of the bread and always serve clotted cream with freshly bakes scones – they do just that, offering a big range of Wilkinson's local tea and serving everything just right.
Lust & Liquor – 2-4 St Benedict's Street, Norwich. Is my top choice for cocktails, superbly blended with fresh ingredients, attention to detail with a lot of professional care and love which is just what a cocktail needs.
There are 3 places we haven't managed to get to yet but will do very soon because I know there going to be great – B'Nou, Benedicts and Badgers Bottom Secret Dining  - 2017 here we come. Not to mention my cookery classes, I offer bespoke cookery classes like no other cookery school around. Offering 15 themes specialising in Asian cuisine and ranging from Bread to tapas. My main 2 classes are a mini theme for 2 and a group cookery course for up to 8 – always private for your organised group – you can't get more foodie than that. My Food and Drink Walking Tours take in a hefty portion of local independent Norwich food joints in over 3.5 hours in a 3 mile tasty walk. For more details go to
www.lovenorwichfood.co.uk
Zena Leech-Calton (c) Cookery Tutor and Food Writer