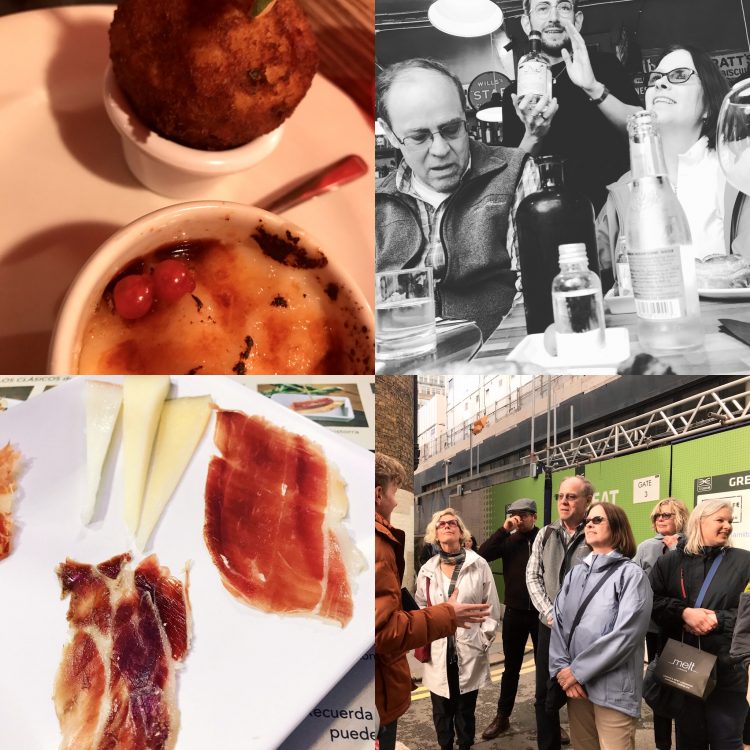 I love to travel and I especially love to eat, in fact I love to travel to eat – there's nothing like food, simple ingredients delivered fresh from nature & cooked with mouth-watering cultural expertise.
I wasn't exactly on holiday but we were in London to celebrate my hubby's big birthday. I'd already booked a lush hotel in Soho with a roof top hot tub plus Yottam's restaurant next door for lunch, so what better way to celebrate our comparable passion for the yummy stuff than a food and drink walking tour.
I say 'comparable passion', I'm usually the one cooking it and he's the one eating it!
Anyway, we booked ahead with 'Eating London Tours' for the 'Soho Twilight Food Tour' meeting at 4.30pm in front of an old haunting spot of mine, a pub I used to frequent in my London Cheffing days.
We were treated to two tour guides, one had just completed training and was more than capable, both were actors and well averse to delivering a confident and fluid tour, with friendly and fun professionalism.
And we were off, a good old introduction to the mainly American group with a small group of British girls, about 10 of us plus the guides. Not too big that you're trailing behind unable to hear, but small enough to be friendly as we walked around, it's a very sociable thing.
Our first port of call was at a local Mexican a very short walk away for a delicious mini frozen Margarita and a couple of tacos. There's a lot to eat on these tours, so its advised to come hungry (maybe not go to lunch at Nopi, even if you take it easy and share a dessert!)
It's good to know there's a jug of water in each venue along with toilets which comes in handy.
There's a great deal of knowledge as we walked around, all about Soho's history, its famous residents, its architecture and its seedy side – especially its grotty core, which makes it such a special and exciting place.
I worked as a chef in London for 10 years, spent a fair bit of time in Soho but I got to find out all sorts of things I never knew, saw things I never noticed and was amazed by all the oddities of Soho, along with what Soho actually means? (I'm not going to tell you)
I loved the next stop after a brisk walk through the park and tucked away up some alleys was the Gin Club, we got a full-sized G&T with an introduction from the owner. And if that wasn't enough we got a mini British pie, which worked well with the botanics of the house Gin.
Enrique Tomas was next, with its magnificent window display. These Spanish 'parma ham' beasts are becoming very popular all over London, with new branches popping up all over the place. We tasted 3 Iberico hams and 3 divine cheeses along with a good slug of rich red wine.
It's worth mentioning that every stop includes a sit down, making the tour manageable for all ages and abilities, as long as you can cope with the small walks in-between. This tour very much focuses on food from all over the globe, which is what Soho's all about, an eclectic melting pot of all sorts.
My favourite foodie spot was the Basque Pintxos joint where we got to choose any 2 dishes each from the amazing display of hot and cold tapas. I went for a hot salt cod croquette and a creamy Catalan dessert. Both delicious and no Twilight food tour would be complete without a little drinky to go with the food, so the waiter poured out some wine from a great height into little chunky glasses.
China Town was next on the list, a hidden gem of a Chinese restaurant, for some moist and moorish steamed dim sum and a decretive pot of fragrant cocktail.
As if we weren't full enough and packed full of interesting facts, our final destination was 'Basement Sate' for a well-deserved sweet conclusion of chocolate yumminess, oh, and of course a little mini champagne based cocktail.
Wow – – 'oh, what a night'. Walking around from light to dark. Eating, drinking, chatting, listening and enjoying all Soho has to offer.
We finished around 8pm in Carnaby Street, early enough for ravers and late enough to enjoy one last tipple before we dragged our worn-out and slightly tipsy bodies back to the hotel.
The tour was £95 per person. I initially thought it expensive but on hind-sight it was good value. Six good sit-down places for snacks and drinks, a guide with the knowledge, a good old walk and over 3 hours of entertainment.
A fab time was had by all – –
By Zena Leech-Calton ©
Food writer and cookery tutor – – I do Food Tours in Norwich too, you know!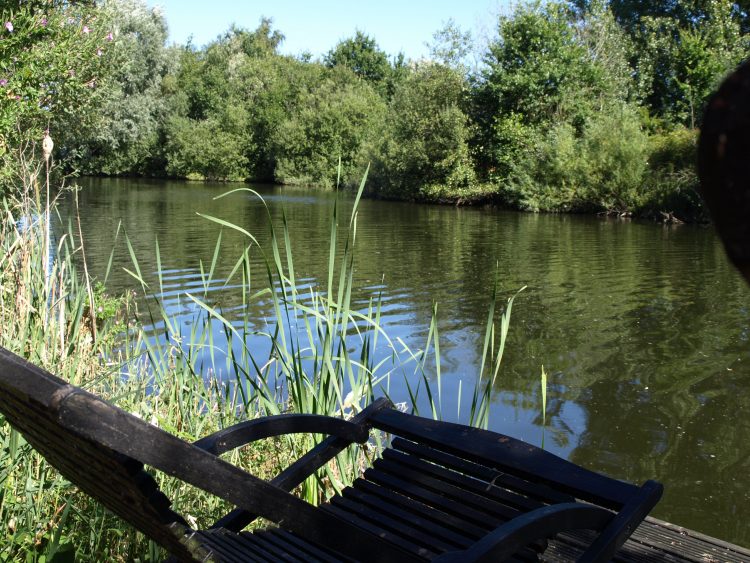 Whats happened in the UK this year - were all saying the same, last year was bad enough but business is even slower this year. That Beast from the East did'nt help, with a rise in sunny continental holiday being booked. After all why would anyone look out of their window at ten tons of white slush and say 'oh, I think we need a break in Britain' Then we had the rain and the floods - all putting people off booking. BUT its GORGEOUS NOW.
So after 5 years of excellent bookings, this year we are down - - good news for customers who can grab last minute bargains but not so good for me with the bills still pilling up. But then thats the joy of running a business - - at least I'm not selling pork to Dubai, or party poppers to the morgue or grass seed in the sahara.
After all, I've got something good to sell - - Lodge Farm's top 10 reasons to come on holiday here.
Stunning Views over Bawburgh Lakes - - catch a kingfisher, a glebe or a heron.
2 Acres of Activities - children playground, adults zip wire, picnic area, trampoline, lakeside path, seats and benches to chill.
4* Gold accommodation - its hard work to keep up standards, but we do with cleaning, quality of furnishings, little extras and good service.
Norwich is so close - just a 10 minutes drive away, its in the top 10 of shopping places in the UK.
Water, Water every where - we are surrounded on 3 sides by the lakes, the broads is 20 - 30 minutes away, beaches are 10 more with tons to choose from.
Family Friendly - Were nice and helpful and live next door at lodge Farm, handy if you want to borrow some DVD's or ask about recomendations. Any potential problems are quickly resolved. Plus your supporting local businesses.
The Borrowers List - - this is my thing! a list of all the fabulous things you can borrow, like bikes, massage chairs, DVD's, games, PSP - all sorts. Plus theres the treat box!
The Wildlife - - i've counted 25 different birds, we entice them in the seeds. The rivers full of fish, swans, geese, ducks, moorhens and more. Then theres the rabbits, deer, otters, mink and shrews - - - - - the list goes on.
A fabulous price - - forget Centre Pks, thats triple the price with less of the luxury and wildlife. Our prices are not only competitive, we keep them lower then other holiday rentals around to guarantee good value, plus we extra touches to make your break even better.
Well Stocked - - I'd like to think everything you would need is in your barn. From the scales to the coffee pod machine, I think I've thought of everything and if I haven't you can borrow it.
So what are you waiting for - - contact me to book. A £75 holding and damage deposit is required via paypal or bacs with the remaining balance due 6 weeks prior to arrival and thats it - - - follow our directions and enjoy.