Whats happening with the weather - - it is July.
However as I've said before the weather is always fantastic at Lodge Farm its set in a 'Simpsons Movie bubble dome, unpenitrable from the bad stuff but unlike springfield you can get in and out really easily. I'm just hoping for some good rays on Saturday for my daughters 18th and my 50th birthday party here at Lodge Farm - Party 1850. The place is looking stunning, hummocks have been hung, benches moved, grass cut, trees trimmed and the geese are on there best behaviour in readiness.
Even my dads come back from Spain - where its far too hot. Who wants 'bum crack hot', thats when its scolding hot & you feel sweat run down your back and in to crevices not usually accessed in Britain! I'm sorry for my crudeness but when it happens its really not nice - - - of course Lodge Farm's magic dome stops all that horrible stuff, leaving you comfortably dry and warm.
Talking about summer Elvis and Pricilla the resident swans had 7 cygnets a few months ago but as usual they've been left with a lot less. How cruel nature is - 3 cygnets remain. Its the pike in the lake - - its very rare many chicks survive, with the big fish, otters and mink nothing small has a chance. The geese have got it right they 'ween' on land - avoiding the water for too long.
We've been running Lodge Farm Holiday Barns for 5 years now - - we have noticed this year, that business has gone very slow. Everybody's in the holiday trade is complaining - - what with disasters, terrorist attacks, elections, Trumps and more people just arn't going away as much - - - so if you want a bargain look at our last minute specials. We even have a week available in all three barns in August if you fancy a week away with friends or family. This week The Dairy's been empty - thats never happened before in July - - - so lets hope 2018 turns back to normal for the British tourist trade.
I love Lodge Farm - on a sunny day with the glimmer of the lake and all the wildlife buzzing around cackling in the distance with the lush green of all the trees as they sway in the wind.
I love my children - despite the fact they are teenagers and quite frankly a pain in the bum at times, But I still love em and want to do whats right by them and bring them up to be good, happy an healthy.
I love my husband - - despite the fact he's a moody old northern so and so - I look forward to growing old with him, traveling and enjoying hopefully a healthy retirement together.
I love myself - i'm quite happy to have a good chat to myself, I think I'm a good person - I live my life with 'if its fair - its ok, if its not fair then don't do it - so I can sleep at night all peaceful and happy.
BUT
I LOVE FOOD MORE -
It's not just a passion, its my life, its my every waking thought, its my imagine before bed I - then I dream of foodie pleasures and wake up to do it all again. I love to teach - exciting themes, I love to watch food blogs from far flung places, I love to eat out, I love people to cook for me, I love to discover new flavours, I love to experiment and spend hours writing recipes and coming up with things to try. I love to cook - - -
Then theres the other stuff like food history, food science, experiments with chemical reactions - food thickeners, food enhancers, things that fizz and foam. Gaining knowledge learning new ingredients, facts and figures.
Like do you know what 'Kecap Manis' is - its a thick syrupy sweet Indonesian soya sauce, great for dipping or enhancing stir-frys, noodle dishes or fried rice.
Did you know 'Worcestershire Sauce' has got fermented anchovies in it - thats because fish brings out the flavours in meat, Roman's did it with fermenting fish guts, Asians do it with fish sauce or shrimp paste. We do it with Worcestershire - -
Did you know if you massage a lemon its more juicy - - - -
It's a never ending pool of Loving Food - yes, even more than life it's self!!!!
So when you some to Lodge Farm Holiday Barns you can be assured that your kitchen is full of the things you need, Norwich is full of great places to eat, the Guest Book is full of recommendations and if you fancy it you can even have a cookery lesson or scoff on ice-cream in the diner - - or just enjoy take-aways with no washing up but great views.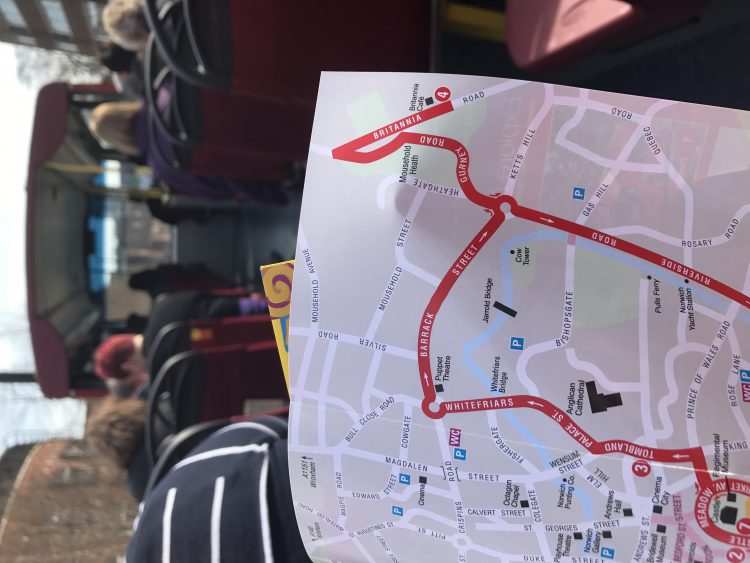 Today I was lucky enough to get a free trip upon the big red bus to promote tourism in our fine city –
When you find out Chapelfield roundabout used to be called Phenomena Corner because it was the coldest place in the city you know you're on to a winner.
Tons of seats upstairs or down, open or not – any weather for £10 adults and £5 kids for a 24 hour pass plus concessions and family passes at reduced rates.
Just the round trip is about 50-60 minutes with a running commentary – telling you everything you need to know about our magnificent history and its glorious buildings – take in The Assembly house, the castle, the cathedral, the puppet theatre and more – Plus you get to go all the way up to the top of Mousehold and stop of at Britannia café for a free cup of tea with a bought in cake.
But between you and me Britannia café is amazing, views over the city, really reasonably priced food, ice-creams, cakes, lunch and dinner – there is something for everyone like kebabs and pitta, to fish and chips to soups to sarnies to salads – so its well worth staying over for lunch and a walk on Mousehold before hopping back on the bus again.
Plus, the bus has stops at Norwich train station and the Bus terminal – so a great last thing to do if you're on your way home.
There are 9 main hop on hop off stops including Tombland for the Cathedral and Elm Hill (with the most medieval buildings in one street than any other place in the UK). A stop for the castle so you can take in the museum or simply shop at castle mall (one of 2 indoor shopping centres). Plus, a stop on Kings street so you can visit Dragon Hall or riverside for cinema, restaurants, bars and more.
I really enjoyed myself, learnt a whole lot more about the city and would truly recommended it to anyone even if your local -
- - - ps - the bus didn't drive upside down - but the picture is! - -
Norwich has over 500 food and drinking places, with 100's of independents in that list. When I travel I google and trip advise all the best places to eat, its not about price, its about the experience and the quality of the food - the love and the passion the chef plants in to each dish. So, it can be the ethnic cafe, the greasy spoon, the 3* latest rave or simply a locals back street wonder - if it serves up good food, I'm there - I don't even care if the owner is a Whelk and the Waitress a clam - - just give me the food!!!
My top places to graze –
Cookies Crab Shop – The Green, Salthouse, Holt, NR25. (ok not Norwich but worth the 40 minute drive in to North Norfolk) My absolute favourite food is Lobster and you can get half a lobster platter for under £15 packed with salad, prawns, several types of smoked mackerel, cockles, good old fashioned bread & butter and more. It's a rustic beach shack spilling out in to the yard with a purpose made summer house and a marquis crammed with seating but it's pure charm on the North Norfolk coast. Bookings a must in the summer months or get a takeaway and enjoy on the beach.
Gonzo's Tea Room – 68 London Street, Norwich. Is a crazy mad eccentric 'man cave' full of wonder, like a zillion collectable figures, pictures and stuff on stuff. But they serve the best burgers & sweet potato fries in Norwich and certainly the best wings with 7 finger licking toppings like blue cheese and walnut. But it's not for everyone – it helps if you're a little crazy yourself!
Figbar – 23 St John Maddermarket, Norwich. Sometimes all's you want is dessert and desserts all they do (we'll except for a couple of savoury pastries). Delicious top London standard blends of sweet yumminess for around £6-8 or just opt for one of their freshly baked and prepared cakes 'n' bakes – all done to sweet perfection.
Workshop – 53 Earlham Road, Norwich.                   My favourite lunch time haunt. It's not about the service or the restaurant - that's all casual, it's about the delicious Mediterranean Middle Eastern infused tapas style dishes. Choose a couple each and share. The menus stuck to the bar (don't try and move it!) and served from mid-day. I've only ever had one good dish the rest have been amazingly gorgeous and superbly delivered in taste.
St Giles Hotel – 41-45 St Giles Street, Norwich.                   If you fancy superb service in a gorgeous art deco setting with quality food to match then St Giles is pure indulgence without the cost. St Giles is part of my food and drink walking tours, because it simply ticks all the right boxes.
Grosvenor Fish & Chips – 28 Lower Goat, Lane, Norwich. Norfolk potatoes and Suffolk fish are superbly cooked together making the tastiest Fish & Chips probably in the world. The Grosvenor is no 1 on trip advisor and rightly so. The seating downstairs is atmospheric, the menu inspiring with exciting goodies like Wako Taco, five quid squid and more – for me it's the highlight of my walking tour, just one of the many places we visit for a bite.
Baby Buddha Chinese Teahouse –139 Ber Street, Norwich. One of my food pleasures in life is Dim Sum, I've even started teaching it at Lodge Farm Kitchen. Baby Buddha does a great lunch time menu with a few dozen tapas sized Chinese classic fried, steamed and baked goodies. I love the turnip cake – actually made from mooli. Fried wontons, spring rolls and steamed BBQ pork buns are all classic favourites but Fung Chung is my go to dim sum – steamed thick rice noodles stuffed with a choice of pork, minced beef or prawn. I enjoy my dim sum with a pot of jasmine tea at least every other month.
Moorish – 17 Lower Goat Lane, Norwich. Take away or eat in falafel pittas – packed full of freshly prepared shredded salad, humus and a choice of chilli, yogurt & mint or tahini sauce – or go for all three. A basic falafel to take away is £3.80 delicious, filling, cheap and healthy.
Woolf and Social – 21-23 Nelson Street, Norwich. Local Artisan bread, tempting exciting sharing dishes and great cocktails. Everything tastes so good in this local, just out of the city small but perfectly formed modern restaurant.
Blue Joanna's – 103 Unthanks Road, Norwich. A great mix of blue tacos with different fillings, small sharing dishes and tasty sides, they do the best fresh cut chips in Norwich – perfectly seasoned and moorish – load the table and enjoy. I can't wait to go back for breakfast the menu looks amazing.
Brick Pizza – 39 Market Place, Norwich.          Simply the best pizzas in Norwich. I like the one with pear & walnuts but the classics are good too. A great dough, amazing tomato sauce and the best quality toppings all cooked in a wood burning oven to perfection.
Dray yard Smoke House – 31 Exchange Street, Norwich. My kids (well teens now) love this American smoke house of meatiness. For lunch they sometimes do an amazingly good value £5 mid-week main meal – with choices like burger and fries, ribs n wings, mac & cheese or maybe even a burrito with slow cooked shredded pork perfect for family, friends or a lunch time treat.
Waffle House – 39 St Giles Street, Norwich.                   A family favourite. I've been enjoying these tasty waffles for over 30 years. The milkshakes are the best in Norwich, I love the fact they source locally and ethically. My favourite is the hummus and avocado but I sometimes go for the specials if they have a curry on plus I can never resit the house salad with blue cheese dressing on the side – always tasty with friendly service.
Flaming Galah – 123 Ber Steet, Norwich.                   My favourite chilly day take away. An Australian pie and mash shop. The specials are very special I've enjoyed succulent duck with red cabbage and come exciting Thai infusions, along with their classic menu – I love the chicken pie, so creamy and packed full served on a bed of mash, topped with mushy peas and smothered in rich gravy for just under a fiver with a drink to take out.
Café Gelato – 6 Opie Street, Norwich. Norwich's new proper Italian Gelato shop, gelato is freshly made ice-cream made mainly with milk making it soft and smooth. The Italian owner and creator makes tasty seasonal specials. It's a great place to pop in to for a scoop and coffee.
Namaste – 2a Opie Street, Norwich.                   While working in London as a chef, we often enjoyed south Indian vegetarian food always ordering Bel Poori, a bit like rice krispies, Bombay mix, cold potato & raw onions with spicy sauce, tamarind and yogurt – sounds strange but it tastes incredible. Namaste offer similar south Indian favourites including Dosa's large stuffed lentil flour pancakes.
Assembly House – Theatre Street, Norwich.                   One of my absolute favourite things to do is indulge in afternoon tea and I think the Assembly house is the best place to do just that. An historic Georgian building full of charm with great service to match. A perfect afternoon tea has to offer fresh loose tea, cut the crusts of the bread and always serve clotted cream with freshly bakes scones – they do just that, offering a big range of Wilkinson's local tea and serving everything just right.
Lust & Liquor – 2-4 St Benedict's Street, Norwich. Is my top choice for cocktails, superbly blended with fresh ingredients, attention to detail with a lot of professional care and love which is just what a cocktail needs.
There are 3 places we haven't managed to get to yet but will do very soon because I know there going to be great – B'Nou, Benedicts and Badgers Bottom Secret Dining  - 2017 here we come.
Not to mention my cookery classes, I offer bespoke cookery classes like no other cookery school around. Offering 15 themes specialising in Asian cuisine and ranging from Bread to tapas. My main 2 classes are a mini theme for 2 and a group cookery course for up to 8 – always private for your organised group – you can't get more foodie than that.
My Food and Drink Walking Tours take in a hefty portion of local independent Norwich food joints in over 3.5 hours in a 3 mile tasty walk. For more details go to www.lovenorwichfood.co.uk
Zena Leech-Calton (c) Cookery Tutor and Food Writer
We found that short breaks often blocks people wanting to book week stays or longer and we also found it hard to rent the odd mid week breaks that were left. (plus its more cleaning and washing for me!!)
So after pondering for all of a minute (I think it was the cleaning thing that did it!) we decided to only offer short breaks as a kind of last minute booking meaning we now release weekend and mid week breaks 2 weeks prior between Easter and  summer and 4 weeks at all other times - full details on the availability page.
After looking at my bookings book I found we only did about 4 - 5 short breaks in each barn in the whole year - so hope people won't be too disappointed but of course it means that if we do have odd weeks and days left I'll be doing a lot more last minute specials on our availability page.
So keep an eye out - -
Bawburgh's a lovely village, not just because I live her but also because of the great stuff -
St Walsons Well - a traditional bricked up well at the back of the church where St Walstons was supposed to have stopped for a drink on his pilgrimage back home to Bawburgh.
The Church - Medieval in all its splendour, with its Naped flint walls, its quirks and its gorgeous tower.
The Pub - The Kings Head is a gastro pub serving up fine foods and a good selection of ales, its rooms sprawl in its Victorian building meaning there are little nooks and crannies and a warm fire blazing in the middle. plus in summer you can enjoy al fresco eating in its beer garden.
The River Green - home to the July Duck Race and Fate. Fishing, feed the ducks, take a paddle or chill on its soft green grass under the shade of a tree. Picnic & bring over a drink from the pub - everyone does it!
The Mill - residential now but still looking impressive as the back drop to the river and river green, with cascading water oozing out of its gates.
The Bridge - behold the Victorian built bridge sending cars one by one over its delicate frame.
The Village Hall - we have barn dances, bridge, Christmas Fayres (this year Dec 10th 11-3pm, open gardens (coming in 2017), party's, social evenings, weddings and more plus a playground out back for the kids to enjoy. The Zip wire is coming soon along with some new editions to the already fabulous play area.
The Goose Farm -  - - - goosie ganders our feathered friends enjoy a free range life on acres of grass land up New Road from late summer. With over 10k disappearing a few weeks before Crimbo we were all shocked to hear 1500 went missing one chilly November evening never to bee seen or heard again. It even made the national news - but somethings a little fishy in bawburgh and I'm not talking about
Bawburgh Fisheries - new doors private (members only) fishing lakes one of which we over look - bustling with hugh monsters to mini silver slivers. Herons, kingfishers, otters and kestrels all have a plunder.
When you have a business, tons of people phone and e mail you up asking to advertise with them on websites, in magazines and newspapers - if we did everyone we would be in bigger debt than Lodge Farm put us in - in the first place.
So we decided to blow this years advertising budget on updating our website - it seems likes ten blue moons ago, when I was sitting in the caravan as project manager to what was then a run down building surrounded by mud and rubble. Working on text for the old one - - I was so excited when it launched months before we were ready - but it was out there & I loved it.
Six years on and thats a long time in internet years it was looking a little old fashioned, a bit like a Vol U Vont filled with a tin of Baxters chicken soup and garnished with some curly parsley (it all goes back to food!!!) so  - - - here it is looking modern and fresh like a Quinella of whipped goats cheese on a bed of pea shoots with a mint foam and a few micro chunks of sorrel jelly served on a ridiculously large slab of slate scattered with a splash of aged 1 million year old balsamic reduction.
Hope you enjoy - - feed back always welcome.
So you're having a fabulous holiday in Norfolk at Lodge Farm Holiday Barns and you spend the day in Norwich.
Why wouldn't you its in the top 10 shopping destinations in England with over 300 independent shops down the lanes alone, 12+ fabulous historical buildings, 31 medieval churches and the biggest outside market in Europe with 200 stalls including food stalls selling mushy peas & pies, hog roast, local sausage hot dogs, great coffee, gluten free pastry's, fish and chips, a full English and more.
- So you've had a busy day shopping, had lunch in one of the great restaurants in the city, you've even maybe had afternoon tea in one of my favourite tea joints (Biddys /Harriettes / Assmebly House)With the day drawing to a close, you'll soon be on your way back to your comfy Norfolk Barn surrounded by tranquility, idilic lakes and wandering wildlife (see what I did there) BUT with tired feet and a holiday appetite you might consider taking back some scrumptious take-away food.
Try – Flaming Galah's - Australian pies served with creamy mash, mushy peas and comforting gravy. The Pies are packed with exciting delicious filling like Chicken sate, Chunky beef & bacon along with daily specials like braised duck, curry lamb and more all for under £5 plus you can pull up outside and grab a couple to go. Call 07837 915375 / 123 Ber Street.
Try – Moorish – Falafels to die for, warm whole-meal or plain pitta filled with 3 hot falafels, smothered in home-made humus, topped with fresh chopped salad and drizzled with chilli, tahini or garlic - - or have all three! A take-away falafel is only £3.50 extra topping are a grab at 50p each like feta, olives, tabbouleh or crispy aubergines. 01603 622250 / 17 Lower Goat Lane
Try – Brick Pizza – Pizza doesn't get any better than this, wood fired fresh dough beauties with quality Italian style toppings on a delicious Italian tomato in house sauce. 01603 620661 / 39 Market Place
Try – Grosvenor Fish Bar – not just the best fish n chip shop in Norwich, it's the no.1 restaurant on trip advisor. A well established family run business with a menu full of surprises as well as the usual's. They use Suffolk fish and Norfolk potatoes. Fish n chips from £5.50 or go for Loony toons!! 01603 625855 / 28 Lower Goat Lane
Try – Louis Deli – a window and counter full of homemade & local tastiness. Grab a mezze picnic of artisan breads, charcutterie, pickles, salads, pastries, cakes and more. 01603 763377 / 81 Upper St. Giles Street. Then eat, enjoy and taste Norfolk and do it all over again the next day.
- - ah, holidays are great aren't they.
For more takeout options in Norwich go to www.lovenorwichfood.co.uk
I love the sun - I love England and I love Norfolk - - after a drulling winter we can all embrace and worship the sun, after all we don't get it for long. A lovely Spanish couple came earlier in the year and arrived in the rain, I felt I needed to appologise like I was responsable for the bad weather we occasionaly endure at Lodge Farm - - but they said with out that rain your countryside wouldn't be lush and green and beautiful. It made me apprechiate the diverse weather we have, East Anglia produces crops that get exported all over the world because of our climate, when we get snow - we pick the children up from school and go on an adventure becasue those 3 days of snow we get every year mean fun and no work. Then when we get the sun we revel in its gloriousness - - - -  and today I'm reveling.
A couple of Canadian geese are escorting 6 lovely little chicks around Lodge Farm - they have even learnt to hang around at corn time for the chickens to grab some them selves. Elvis and Pricilla the swans are taking it turns to sit on their nest - cant wait to see their cygnets. We have build a double garden bed to go on one of the lakeside decking ares for all to enjoy (got it in the winter sale for £40) - - what bliss lying on a bed on the waters edge watching the wildlife go by. The only problem is when the chickens know I'm down there they follow me - and cluck away until they realise im no good for corn.
Popping up soon is this years PoP uP restaurant - "my Little Greek Cafe' as we speak im listing to the Greek music cd i bought to see if its any good - - - I must admit I've shouted "Woopa" a few times. Me and hubby are getting the back garden ready, its the last place to renovate/landscape and its a big expensive job so we are doing as much as we can before the big event - - tickets are £5 for entrance and a drink, they'll be a bar - already in place, I just need to paint and decorate it. I'm doing food to order - mezze style like hallomi, lamb stew, humous, pitta bread, cheese balls etc etc - - the place will look, sound and smell lovely. I've sold 3/4 tickets already so you may get in if you contact me quick. Info on the event page.
So - - at present we have plenty of availability over summer in one barn or another, so get your self over here - contact me with any questions or go to the avaiability and price chart to see whats on offer.
Just sitting here sipping some liqouirsh tea waiting for the Visit England Assessor to arrive - it's an annual event. You see we are graded 4* GOLD which is really good, we could go for a 5 * but that means changing some furniture to French Boroque!!! or something like that and offering a welcome hamper and making sure you salute to all that enter. So we are happy with a 4 gold. Apparently lots of places when recieving 5* wish they hadnt bothered becasue its hard work keeping up imaculate 100
% on apsolutly everything and people would obviously have very high expectations - I know I would.
So with our grading people can enjoy the high standard, with the 5* touches, 5* bathrooms, 5* cleaning and get comfort in knowing we are keeping up apperances while paying a very resonable price for a great place fantasticly located in a beautiful setting.
Every year I have to make sure there are enough cutlery and crockery in each barn - one for the dishwasher one for the cupboard with a few spare. I have to ensure all my weekly and monthly jobs are done like polish the sofa, scrub the walls, dust the ceiling! If naughtly peole damage anything - we have to replace it - hopefully with better next time so we are alwasy improving - they like that.
The assessor walks round with her white gloves rubbing her finger along door frames checking for a spot of dust - - I one left a single crumb in a draw and was marked down 2% - - I could of kicked my self because I saw it and left the draw open ready to hoover it out - but then shut it by mistake. I only got 98% cleaning that year but it was still a 5* standard - despite the offensive crumb.
This year they'll be happy as we have replaced the sofas with comfy new ones, replaced the king sized bed matresses with bouncy 1000 sprung, memory topped beautys, replaced a few white goods, replaced a few laminate furniture with solid Oak - - No veneer in errr. I've bought better knife racks, added branded pens, beer glassess (thanks to one visotors suggestion), water bottles and much more.
Since last summer last year we have re-painted all the ceilings and white walls, painted the gardned furniture, door steps and B.B.Q's - replanted, landscapped further - mind you thats always on going. We've added more lakeside paths. I've even added a hand built bench for the playground - - - pheew
You see thats the good thing about a good grade - it means your keeping up the standards - constantly imporving - it keeps us on our toes and our visitors happy.
Welcome to Lodge Farm Holiday Barns - We are 4* Gold and proud of it.