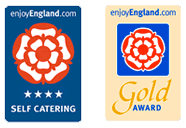 WELCOME TO LODGE FARM HOLIDAY BARNS
EASTER & SUMMER BOOKINGS are open & ready for you - see availability chart 
home3 barns available
star4* gold rating
wifiFREE WIFI
trophyLuxury Accomodation
Lodge Farm offers three holiday homes LakeView (2 bed) with its gorgeous views over Bawburgh Lakes, The Dairy (1 bed) with views over the Lakes, wild grass meadow and woodland along with The Courtyard (2 bed) with its private Victorian walled garden area all set in Lodge Farm a 16th Century Jacobean farmhouse. Bawburgh is a beautiful village in Norfolk and only 12 minutes drive from Norwich City Centre. The barns have lovingly been converted into modern self catering barns and are surrounded by a Norfolk Wildlife conservation area, natural woodland and Bawburgh Lakes.
Lodge Farm and the Holiday Cottages have gone Green with a ground source heat pump supplying the underfloor heating throughout, our own borehole with water treatment and sewage plant and maybe in the future a solar panel bank. You'll be in for a treat when you holiday in East Anglia at Lodge Farm Holiday Barns - whether for a long weekend in Norwich or for a luxurious week in the comfort of the converted 4 star gold holiday homes.
AMENITIES
These are the facilities and services included in the price of your holiday.
Underfloor heating
Free WIFI
Egyptian Cotton Bed Linen
Full size bath & shower
Heated towel rail for hot towels all year
32" Freeview TV/DVD player
Dishwasher
Washing machine
Large Fridge freezer
Coffee pod machine
Private patios / Bar-b-que
Ample private parking
Lakeside walk & Use of Grounds
Playground
Non-smoking


REVIEWS
This is what our guests think 🙂
Lovely, Spacious, clean, equiped cottage. Close to lots of local attractions. Relaxed atmosphere and felt at home. Will miss the geese and chickens.
Mrs D Clover
-
Well appointed holiday home, not wanting for anything, love the borrowers list and all the little touches - will be back for one of the cookery courses.
Mat and Family
-
It was great to return again, third time and always things to do in the area, thanks again
Mr & Mrs Constance
-
Very comfortable bed and lovely rural location but near all facilities.
Mrs R Duffus
-
We really enjoyed our stay. Zena was so informative and helpful. It is a great location. The property is spacious, clean, extremely well appointed, well supplied and extremely comfortable. Outside spaces and wildlife also much appreciated.
Mrs S Wierzba
-
Lovely peaceful place in scenic surroundings
Mr J Jones
-
We had a very enjoyable holiday and were very pleased with the cottage hosts and administration.
Mrs B Beevis
-
We have had a wonderful stay, wonderful place. We will see you again soon!
Lorna, Ron, Charlotte & Summer
-
Everything was wonderful, we really enjoyed having this property and The Courtyard as it allowed our large family to see the new year in together. Thank you for all your thoughtful extras.
The Mason Family
-
We would love to return, what more is there to say?! Oh, Perfect, thank you very much.
The Wolfenden Family
-
Tranquil, relaxing surroundings. Everything has been catered for, couldn't ask for anything more.
The Allen Party
-
Experiences
Activities and services you might like to enjoy during your stay
Location
Norwich city center is just 10 - 12 minutes drive away with it's famous castle and cathedral along with heaps of shops, restaurants, theatres and museums. Voted in the top 10 of city destinations. Bawburgh village is just up the road, home to the Kings Head a local award winning gastro pub. A beautiful Village with its own River, River Green, Village Hall and Church famous for St Walstan's well. Longwater retail park and supermarket is just 5 mins up the road just past The Norfolk showground bursting with events.

Contact
Zena Leech-Calton,
Lodge Farm Holiday Barns,
New Road,
Bawburgh, Norwich, Norfolk,
NR9 3LZ
Telephone: (+44) 01603 742-247
Email: info@lodgefarmholidaybarns.co.uk
Click here for directions