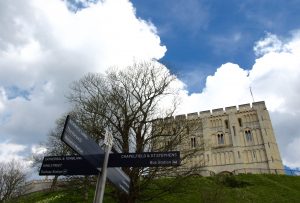 Norwich  - Who'd of Thought it
We have the biggest award winning outdoor market in the UK with everything from haberdashery to brownie stuffed cookies, you can even buy organic carrots, over sized knickers and hoover parts. Plus we have 2 indoor shopping centres both with restaurants, cafes and fast food halls. John Lewis and Jarrold's are our large department stores - Jarrold's is still family run offering some scrumptious goodies in its food hall, seafood bar and deli, homewares and beauty products with a great toy shop on the top floor - plus 2 really good cafes. Walk along the cobbled streets, weave past medieval buildings, discover one of the many museums, art galleries or theatres. Eat everything from Vegetarian indian to artisan sour dough toasties. Drink in one of the many pubs, feast in pub food or chill with a cocktail - you can even go to a cocktail class or make a bottle of gin in the academy. Norwich will keep you busy for days - parkings good with several multistories right in the centre, alternativly catch a bus in or zoom in, in a local cab for as little as £8 - traffics never too bad, from Lodge Farm you can get in to the city in 10 minutes or 15 in rush hour.
It's a fascinating city with an exciting past, always developing but still keeping its essence.
Did You Know?
Did you know Elm Hill has more medieval houses down that one street than the whole of London.
Norwich City Football club are nicknamed the 'Canaries' after the birds were traded here by 'Walloons' in the 1700's.
We were the second largest city in Medieval Britain with more pubs and churches than days in the year.
Did you know we are in the top 10 of shopping destinations in England.
The first female published author came from Norwich, we also had the first postcode.
Did you know more people settle here after Uni than any other city in the UK.
Plus if you stay at Lodge Farm Holiday Barns, you'll be surrounded by Royal, Famous & Criminal history.