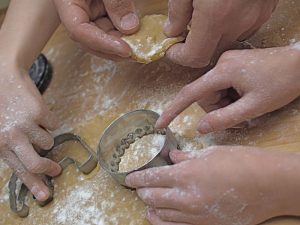 Afternoon Tea Cookery Courses - At Lodge Farm - 2017 only -
Organised group cookery courses Starting at 1pm Tuesdays, Wednesdays or Thursdays Until approx. 3.30-ish
The Perfect Afternoon Tea Prepared, cooked in Lodge Farm Kitchen and then served in Lodge Farms' Victorian Dining Room With Vintage Crockery
· A choice of 3 finger sandwiches using Pye bakery granary thick sliced bread – pre choose from a list of classic & original fillings. · Buttermilk Scones – served with butter, local jam and clotted cream. · A pre chosen cake from a list of deliciousness. · A choice of mini whips or pastries – pre chosen. · All served with Wilkinson's fresh afternoon tea blend.
£190 mid week term time or £220 inc holidays up to 6 / £15 additional persons up to 10
Available choices for Afternoon Tea At Lodge Farm – Cookery Courses
Three Sarnie Choice – Pick any three
Standard T- Sandwiches - Smoked Ham and mustard Cream cheese & Cucumber Smoked Salmon and Horseradish Cream Grated Mature Cheese with Caramelised Onion Something a little different for Tea - Coronation Chicken Whipped Goats Cheese & Walnut Duck Egg Mayonnaise with Cress Crispy Maple Bacon – BLT Butter Bean Hummus & Rocket
Cake Choice – Pick one
Classic Victoria Sponge with Jam & Cream Classic Chocolate Swiss Roll Tunisian Orange Drizzle Cake Coconut & Lime Cake Light Carrot Cake Scottish Ginger Cake Sticky Toffee Pudding Cake
Mini Dessert choice – Pick one
Banana & Toffee Whip Chocolate Shot Coffee Choux Bun Oaty Date Slice Pistachio & Cranberry Madeleine's Orange & Cardamon Shortbread Brandy Snaps with Raspberries Afternoon also comes with Butter milk scones – choose plain or fruit on the day – served with clotted cream, butter and local jam.
Plus
Wilkinson's
Afternoon Tea Blend All prepared, cooked and presented in the teaching kitchen and then served and enjoyed in the Victorian dining Room.
For more details, and to check availability please complete this form, we will contact you asap: